Karabakh people should decide their own destiny – Armenian FM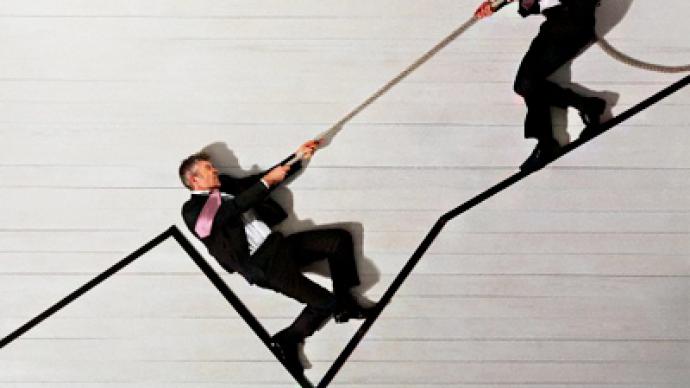 Armenia did not start the Nagorno-Karabakh conflict and people of that region have the right to decide for themselves with whom and how they want to live, believes Eduard Nalbandyan, Foreign Minister of the Armenian Republic.
The Nagorno-Karabakh conflict dates back to 1988.This region, mainly populated by Armenians, was part of the Soviet republic of Azerbaijan. After the collapse of the USSR, it declared independence which resulted in several years of armed conflict between Armenia and Azerbaijan.A ceasefire was signed in 1994 – Russia, France and the US have been mediating talks since then. There is a Russian proverb "a bad peace is better than a good war", but in the case of the Nagorno-Karabakh frozen conflict this is not exactly the case.RT: Do you agree a poor peace is better than a good war?Eduard Nalbandyan: Sure I agree with it. Is there anyone who does not agree with it? A patched-up peace is better than any war. It's obvious, because you can't solve any issue through war. Those who think that it's possible to solve conflicts through military operations or use of force, it is a big illusion as after all wars it's necessary to return to the negotiation table, but negotiation conditions will be much worse.RT: Well, negotiations can go on for a very long time but with very little result. Some analysts are saying that you are just playing for time.EN: Firstly, I think that the time is not on either side of the conflict. As soon as we settle the conflict it will be for the benefit of all sides of conflict. Regarding the talks process, I do not quite agree with the view that the sides' positions have never been closer. Back in 2001 we were close to the conflict's settlement during talks in Paris through the mediation of France. Unfortunately, Heydar Aliyev, the then President of Azerbaijan rejected the agreements reached in Paris – the so-called Paris Principles which were later committed to paper in Key West. He explained his decision by the fact that allegedly public opinion in Azerbaijan was not ready for that.  You know, by pouring oil on the fire – what's happening in Azerbaijan at the moment – but it is necessary to prepare public opinion for the settlement, prepare for a compromise.RT: Many historians believe that one of the reasons that led to the war was Stalin's decision to give Karabakh autonomy to Azerbaijan, back in 1923. What do you think was the logic behind this decision?EN: Well, you are not far from the truth, as it was the decision of the Caucasian Bureau of the Bolshevik Party. Based on that decision, they made Karabakh part of Azerbaijan. Of course the population and people of Nagorno-Karabakh did not agree with that decision. But the Soviet leaders replied that they did not have any borders between the states – there were only territorial-administrative borders, we all lived in one country.RT: The conflict of the early 1990s claimed thousands of lives but even after the ceasefire was reached in 1994 the death toll continues to rise. Last year we herd of several Azerbaijani killed in border clashes. What is going on?EN: What's important is that the ceasefire signed in 1994 has practically been maintained up to the present day. Certain incidents, you've mentioned do actually take place. To avoid them, there were suggestions from the international community, the OSCE, the co-chairmen of the Minsk group, supported by Armenia, on undertaking measures to consolidate the ceasefire, pull out the snipers l from the line of contact and an offer to reach agreement on non-use of force.Unfortunately, Azerbaijan refuses to implement those proposals of the international community. That is the reason for numerous incidents, which happen from time to time at the contact line. And regarding what you are saying, that a few Azerbaijani soldiers were killed in last year's incidents, it's not so at all. In June of last year, the meeting between the presidents of Armenia and Azerbaijan took place in St. Petersburg, and immediately on the night after the meeting the Azerbaijanis carried out a provocation at the contact line. Five Armenian soldiers were killed. The person who killed those Armenians was awarded the title of national hero, a street and school were named in his honor, and a film about him was ordered. Later an agreement was reached to exchange the dead bodies and the so-called prisoners of war. The body of that man was given to the Azerbaijani Party. Despite the fact that it's obvious that such an exchange could not be used for propaganda purposes, Azerbaijan made a celebration of the body's return, and the Azerbaijani authorities set that young man as an example to all youth saying that they should follow his example, calling him a shakhid. It was not the first time that Azerbaijani authorities tried to give a religious angle to such an event, including through the Organization of the Islamic Conference (OIC).RT: You mentioned about the Organization of the Islamic Conference, which three years ago adopted a resolution qualifying the actions of Armenia in Nagorno-Karabakh as occupation of Azerbaijan territory. Several other international organizations passed similar resolutions. Would it be right to say that Azerbaijan's position is stronger than that of Armenia in terms of international law and international support?EN: I must say that you are mistaken. All the organizations involved in the settlement of the Nagorno-Karabakh issue are international organizations, as well as intermediary countries. The Minsk Group Co-chairs, including Russia, the US and France, have the mandate of the international community. All those countries, institutions and organizations – all of them issued statements that are in line with Armenia's position.And what the Azerbaijanis are trying to present that some organization backs them, what are they talking about? For example, the Organization of the Islamic Conference, that does not deal with the settlement of Nagorno-Karabakh issue. And how are the decisions made in that organization? If there is an issue concerning a Muslim country and a non-Muslim side, by the opinion of the Organization, it's always the Muslim side that is right. Actually, no voting takes place there. However, many Muslim countries do not unanimously vote for the resolutions in other international organizations that are not introduced by Azerbaijan.RT: What status would Armenia like to see Nagorno-Karabakh – as part of its territory or as a separate sovereign state?EN: Armenia is supporting the elements and principles proposed by the Minsk Group as a basis for the negotiations and for reaching the settlement.One of those elements just related to your question -is that the people of Nagorno-Karabakh should decide – with whom and how they want to live, in other words to be the master of their own life.RT: President Aliev of Azerbaijan has said on many occasions that his country may use force to reclaim what it considers to be a part of its own territory. What do you think about that?EN: You know, actually, it's dangerous, when someone declares, and does it daily, that one's ready or getting ready to use force. Evidently, they have forgotten how it began. The conflict started when they used force against Nagorno-Karabakh, started a large-scale military action. What's more, they hired mercenaries with close links to international terrorist organizations. You see what it has led to! They must have forgotten what it has led to. Evidently, human memory is short.RT: And finally, you are a career diplomat and for two decades you focused on the Middle East peace process. Some analysts like to compare Armenia's stance to that of Israel, saying that Armenia also tends to exaggerate the demographic aspect of the conflict and play down historic sensitivity of the other side. Do you see any parallels?EN: Every conflict has its own peculiarities, its own roots and its own dynamics and its own progress, it has its own negotiation formats. Therefore, comparing or drawing parallels is not entirely correct. But still there may be something typical to all the conflicts but I don't think we should directly associate one conflict with another. Quite recently in Sudan, where a referendum took place and a new state is emerging,I was asked how it can impact the situation around Nagorno-Karabakh and whether it may become a precedent for Nagorno-Karabakh. Well, of course it can. But there are lots of such examples. Most UN member states can be viewed as a precedent, because practically all of them became independent states by using their right to self-determination. Therefore, Nagorno-Karabakh, or the people of Nagorno-Karabakh have the same rights to decide for themselves as any other country under this heaven.
Also watch interview with Elmar Mammadyarov, Foreign Minister of Azerbaijan.
You can share this story on social media: