Parties bring Kalashnikovs to election shoot-out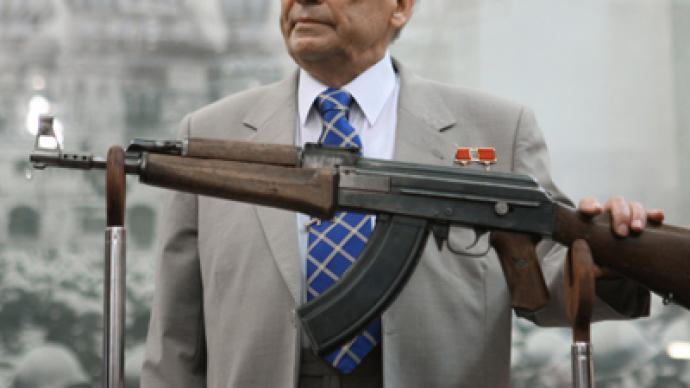 A world-famous weapons designer has accused the Russian Communist Party of illegally using his name in its election campaign.
Mikhail Kalashnikov has submitted an official complaint to the Central Elections Commission and to the Prosecutor-General's Office in which he said that the Communist Party of the Russian Federation (KPRF) was using his name in their campaign without his permission.The 92-year old inventor of the Kalashnikov rifle objected to billboards placed all over Russia in which he is pictured together with his namesake, Communist Party candidate Leonid Kalashnikov, with the slogan "Kalashnikov – the choice of millions" and "Vote for Kalashnikov." Other billboards featured Mikhail Kalashnikov with his assault rifle and with the Communist Party emblem.Kalashnikov wrote that he had never given permission for the Communist Party or its members to use his image or words for propaganda purposes.Moreover, Kalashnikov said that he supported the Communists' main rival, the United Russia party. "I am one of the founders of the United Russia political party. For this reason alone, I do not consider it right for myself to promote other political parties," reads Kalashnikov's complaint, as quoted by the Moskovsky Komsomolets daily.The Communist Party, however, insisted that they had Kalashnikov's permission before starting the campaign. In October, several party officials made a visit to the city of Izhevsk – the home of Kalashnikov's design bureau and one of Russia's largest gun factories. They handed Kalashnikov a souvenir medal and had a photo taken with him. Soon after the visit, the Communist media reported that the gun designer was calling for voters to support the KPRF.  Candidate Leonid Kalashnikov said that he had the designer's signature on a written address to the KPRF that stated his support for the party. However, Mikhail Kalashnikov insisted he had never signed such a document and said he believed his signature had been forged.The Central Elections Committee must rule on the complaint within five days of its submission, ie: before the end of this week. Parliamentary elections are due in two weeks' time, on December 4.
You can share this story on social media: