Kremlin admin chief urges dialogue with law-abiding opposition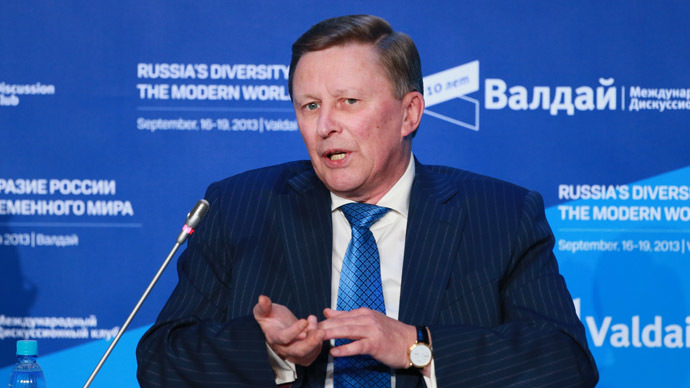 The head of Russian Presidential administration has told an international political forum that the authorities were ready to work with opposition and even grant it some support, but the refusal to stick to the law makes dialogue difficult.
"We should divide the opposition into two parts. There is a part that recognizes the laws and, so to say, rules of the game, and the dialogue with this part is not only possible, but also welcome. But there is the other part of the opposition that recognizes no laws and operates through - let's put it bluntly - illegal means. Through violating the law. And it is difficult to talk to such opposition, to put it mildly," Sergey Ivanov told reporters in the course of the Valdai political forum.
He also noted that in his opinion it was inappropriate on the part of US diplomats to organize receptions for Russian opposition figures adding that the Russian embassy in Washington was not holding meetings with activists of the Occupy Wall Street movement.
Ivanov reminded the audience that sometimes the authorities even supported opposition figures. One such example is the recent mayoral poll in Moscow, in which incumbent acting Mayor Sergey Sobyanin asked the city legislature - dominated by parliamentary majority party United Russia - to provide opposition candidates with signatures of support, as required by law.
He also praised the Moscow elections for honesty and openness, calling the poll "pristine", and adding that the results of the poll were genuine and must be accepted as they were. Sobyanin won the poll in the first round, albeit only narrow margin separating him from a runoff. The incumbent's main rival, anti-corruption blogger Aleksey Navalny, came second with surprisingly high results.
In addition, the presidential administration head again praised the controversial Russian law that obliges all politically-oriented NGOs that receive funding from abroad to register as 'foreign agents'.
"The law is absolutely correct. Eighty to 90 percent of Russians consider it to be an absolutely correct step," Ivanov noted.
First deputy head of the presidential administration Vyacheslav Volodin also spoke at the Valdai forum, however his address was closed to the press. However, some abstracts from it leaked to mass media. In particular, the business daily Kommersant quoted MP Ilya Ponomaryov as saying that he understood that Volodin had encouraged opposition figures to participate in municipal elections across the country, promising a "green light" policy from Moscow.
It should be noted that at the recent single elections day already presented some sensations as opposition activists won mayoral polls in two major cities. Anti-drug activist Evgeny Roizman, backed by the rightist party Civil Platform, which is headed by billionaire Mikhail Prokhorov, became the mayor of the Urals industrial center of Yekaterinburg. Independent candidate Galina Shirshina, with the backing of the pro-democracy Yabloko party, was elected mayor of Petrozavodsk – the capital of the North Russian region of Karelia.

You can share this story on social media: