Bill Clinton: "Russian Israelis" key obstacle to peace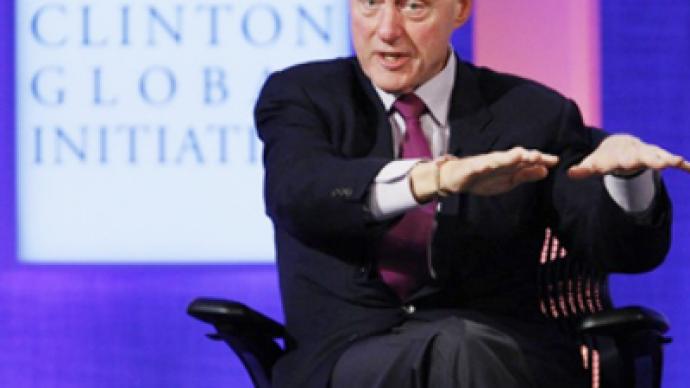 Russian-speaking Israelis have reacted angrily to the former US president's statement that they are "an obstacle to peace with Palestinians."
Speaking at a round table meeting during the annual Clinton Global Initiative conference on Tuesday, the former US President reportedly said that Israel is "different" now due to high influx of new Russian-Jewish immigrants and settlers who will not want to surrender their homes in the event that a peace deal with the Palestinians is reached.
Foreign Policy magazine quoted Clinton as saying that such a change in Israel's demographics may make it more difficult for the goverment of Prime Minister Benjamin Netanyahu to remove Jewish settlements in the occupied territories.
"An increasing number of the young people in the IDF [Israel Defense Forces] are the children of Russians and settlers, the hardest-core people against a division of the land. This presents a staggering problem," Clinton said. "It's a different Israel. Sixteen percent of Israelis speak Russian."
Clinton reportedly told reporters that Russian immigrants are the group least interested in a peace deal with Palestinians.
"They've just got there, it's their country, they've made a commitment to the future there," Clinton said. "They can't imagine any historical or other claims that would justify dividing it."
In the opinion of the former president, whose wife Hillary Rodham Clinton, the US Secretary of State, is currently mediating Israeli-Palestinian peace talks, the most pro-peace Israeli citizens are the native-born individuals who can trace their family roots back for centuries.
The magazine reported that Clinton also provided an account of a conversation he had with former Soviet dissident turned Knesset member Natan Sharansky, who, according to former US president, was the only Israeli minister to reject the peace agreement that then-president Bill Clinton proposed at the Camp David Summit in 2000.
"I said, 'Natan, what is the deal [about not supporting the peace deal],'" Clinton was quoted as saying. "He said, 'I can't vote for this, I'm Russian… I come from one of the biggest countries in the world to one of the smallest. You want me to cut it in half. No, thank you.'"
Clinton reportedly replied, "Don't give me this you came here from a jail cell. It's a lot bigger than your jail cell."
Sharansky, however, denied Wednesday that such a conversation with Clinton ever took place.
"A report of President Clinton's comments has been brought to my attention which I hope is inaccurate," he said, as quoted by Haaretz, the Israeli daily.
"I appreciate President Clinton's commitment to peace and talent for political analysis, however…I was never at Camp David and never had the opportunity to discuss the negotiations there with President Clinton. It may be that he had in mind our conversations at Wye Plantation years before, where I expressed my serious doubts, given the dictatorial nature of the PA regime, whether Mr. Arafat would be willing to bring freedom to his people, an essential element of a sustainable peace," said Sharansky.
Israel's reaction
Israeli Prime Minister Benjamin Netanyahu on Wednesday described the remarks attributed to Bill Clinton as "distressing."
"As a friend of Israel, Clinton certainly knows that the immigrants from the former Soviet Union have contributed and are making a great contribution to the strengthening and development of the IDF and the state of Israel," the Israeli leader said. "Only a strong Israel can establish solid and safe peace."
Many other Israeli politicians have also expressed their indignation with the former US leader.
"If Bill Clinton found time to further study the issue, he would have realized how much Russian-speaking immigrants have brought to the region," said Yohanan Plesner, a Knesset member. He believes their political convictions are based "on real situation rather than illusions," Vremya Novostey daily quoted Plesner as saying.
"Such the incorrect statement of the former president came as a great surprise," Olga Sivan, an immigrant from St. Petersburg, told the paper.
However, there may be some truth in Clinton's words, the daily noted.
"Many Russian-speaking Israelis actually hold extreme far-right opinions and support settlement movement on the territory of the Palestinian Autonomy," it said. "According to statistics, two thirds of them constantly vote for right-wing or ultra-right parties."
However, Plesner stressed that in political issues the pragmatic approach of Russian-speaking immigrants "is not an obstacle but a stimulus for progress" in reaching agreements with Palestinians.
Sergey Borisov, RT
You can share this story on social media: