"We can't allow other countries to interfere with our strategic partnership with Russia" - Iran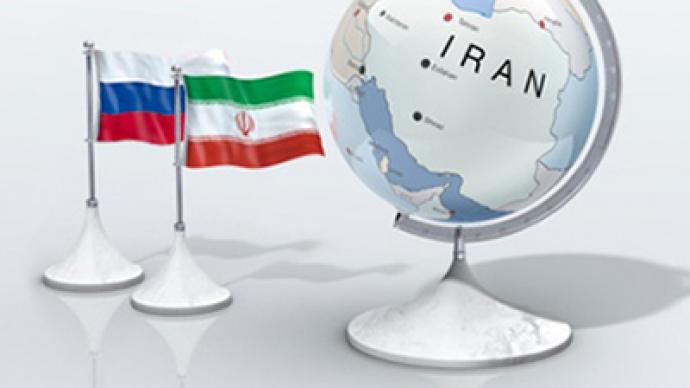 The Iranian government doubts that the United States will venture to go to war but it is convinced that America will do its best to create tension in the region.
One indication that the US is actively working on it, according to the Iranian Foreign Ministry, is the fact that Russia has joined the sanctions and refused to supply Iran with S-300 systems, cancelling the contract it signed a year earlier. Iranian Deputy Foreign Minister and Foreign Ministry spokesman Ramin Mehmanparast says Iran is disappointed with the shift in Russia's policy. He does not think the sanctions required Russia to cancel the deliveries of defensive S-300 systems. Also, he believes the Russian leadership does not fully realize how much the decision to cancel the contract will damage Russia's reputation. Nevertheless, Iran still hopes that eventually the two countries will resume strategic partnership, no matter what the United States promises Russia for abandoning this partnership.RT:  What do you think about the current state of relations between Iran and Russia after Russia supported the sanctions and introduced additional restrictions?Ramin Mehmanparast:  In the name of Allah, the Compassionate, the Merciful. We are neighbors. Russia is our very important neighbor. We have a long-standing relationship, and we expect to have long-term cooperation with your country. We have many things in common; we even share a sea. Also, we have many positive experiences from our cooperation in the past. Countries that belong to the same region should be good neighbors and should seek to have common strategic interests. We can't allow other remote countries to interfere with our cooperation and strategic partnership. Our countries have a great potential for political, economic and technological cooperation. We could raise the level of our cooperation much higher than it is now.RT: Why is Iran seeking strategic partnership with Russia?RM: The independence of our country means a lot to us. After the Islamic Revolution, Iran came under extremely intense pressure from other countries. It is important to us that we have defended our independence and that it is strengthening. It means a lot to us that our people showed much fortitude in defending our independence, which is fundamental for the development of our nation. Our country's history is full of instances when Americans meddled in our internal affairs and committed crimes against our people. That's why our people are very disappointed when they see a country conform its foreign policy to that of the US. We think that the Russians are a great people. We think that Russia is searching for its way and its role in the world. But we have seen recently that the West exerts negative influence on decision-making by Russia's high-ranking officials. We must be vigilant. After the Soviet Union collapsed, Americans started thinking that the world was now monopolar instead of bipolar and that they had full control over it. That's why we need to be particularly vigilant.RT:  Is it probable that Iran and the United States will open talks and we will see a thaw in their relations?RM: We have serious doubts regarding America's real intentions. We question Americans' genuineness. They never act for the good of other nations. They are oppressors, and they admit it. They don't regret it. Today they say they want change. But, no matter what they say, they never showed any respect and never were ready to pursue a fair and parity-based policy with respect to Iran. We see no sign of change for the better.RT: Do you think America wants to start a big war in the Caucasus and get Iran and Russia involved in it?RM: The United States is always seeking to sow discord among nations in this region. It creates complex and serious problems. Sometimes it announces plans with which we cannot agree because they make the situation very dangerous. For example, Americans regularly say that Iranian missiles supposedly pose a threat to Russia. They tell Russia that their missile defense will protect Russia against the Iranian threat, even though they know perfectly well that their missile defense is not directed against Iran. They intend to use their missile defense against another country.RT: Against which country will the United States use the missile defense system it is building in Europe?RM: I don't know. You should ask those who came up with that idea.RT:  You have criticized the Kremlin many times for its recent refusal to sell S-300 systems to Iran. Don't you think that Moscow was simply following UN sanctions, and that the UN is to blame, not Russia?RM: First of all, the UN sanctions, especially Resolution 1929, were imposed under the pretext of condemning Iran's peaceful nuclear program. But we maintain that our program is absolutely peaceful and that it is monitored by the IAEA. We insist that our dossier should not have been sent to the UN Security Council. Those steps were unlawful. That's why we regard the sanctions based on those steps as equally unlawful. We regard these steps as a form of oppression against our people. Secondly, even if you agree with those sanctions, they should not have had any effect on Russia's obligations to Iran, because we signed the contract before the sanctions were imposed. Furthermore, the sanctions don't apply to defensive weapons, the weapons you use to protect your country. That's why Russia should have honored its contractual obligations and delivered S-300 systems to Iran. The way Russia handled this situation left our people with a very negative impression. In fact, after this incident, other nations, too, may decide that they can no longer trust Russia. There are many countries which seek long-term cooperation with Russia or intend to sign some important contracts with Russia, and this incident may discourage them. They may think that they cannot trust Russia, because any moment Russia can yield to America's pressure, cancel the contract and refuse to perform its obligations.RT: Do you expect Russia to return the money it received for the cancelled contract?RM: We still hope that Russia exercises vigilance and caution and performs its obligations. But if for some reason Russia is unable to perform under the contract, we will address financial and legal issues based on the contract we have.
Nadezhda Kevorkova, RT
You can share this story on social media: