Duma receives bill introducing jail sentence for public blasphemy
Published time: 26 Sep, 2012 10:36
Edited time: 26 Sep, 2012 14:36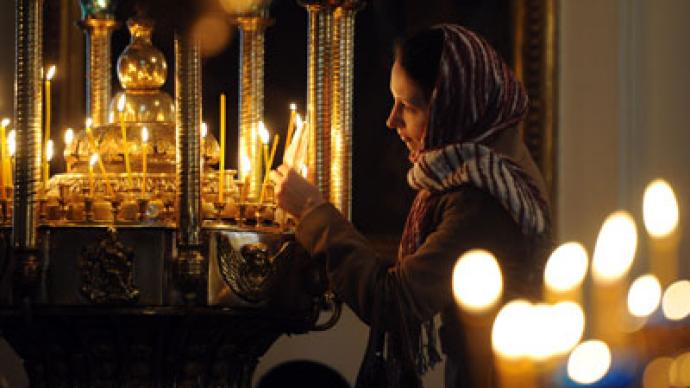 The Russian State Duma has received a bill to protect religious believers' feelings that introduces a punishment of up to 5 years in prison.
The bill was prepared jointly by all the parliamentary parties and presented by MP Yaroslav Nilov of the opposition Liberal Democratic Party. Nilov, who is also the head of the parliamentary committee for public organizations and religious unions, presented a special address to the Lower House on the subject which was almost unanimously approved by all four State Duma factions.
If the new bill is approved it would amend the Criminal Code with a new article on "Insulting citizens' religious views and feelings and desecration of the objects of the religious reverence and pilgrimage as well as those destined for conducting religious rites and ceremonies".
Under this article a public insult or humiliation of church services or other religious rites is punished with fines of up to 300,000 roubles (about US$9,000), up to 200 hours of community work or up to three years in prison. Defiling or destruction of buildings or objects that are revered as holy by any official religion can be punished with a fine of up to 500,000 roubles (US$ 15,000), up to 400 hours community work or with prison sentence of up to five years.
The bill also adds a new article to the Administrative Code. It suggests that public defiling of religious books, signs or emblems must be punished with a fine of up to 50,000 roubles (US$1,500).
The new draft law follows the line parliament took by approving the address 'On protection of the religious feelings of the citizens of Russia' the document which, according to MPs, was prompted by a large number of sacrilegious situations and events that took place in 2012.
These are the "punk prayer" staged in the Moscow's main cathedral, the desecration of icons, the Nazi and Satanist graffiti in churches and synagogues and cutting down of memorial Orthodox crosses in various Russian regions. There are also more dangerous incidents, such as the recent assassinations of Muslim clerics in Russia's internal republics of Tatarstan and Dagestan.
While some analysts point at potential dangers of the bill in the multi-confessional and officially secular state, a source in the Russian Presidential Administration called the move a normal reaction of the parliament to public sentiment.
"This was an understandable reaction of the State Duma to public feelings about the latest insults of the believers, including the Pussy Riot incident," the Interfax news agency quoted the unnamed source as saying. "The deputies took into account the public demand, backed by the latest opinion polls. The polls showed that 80% of Russians supported that idea," the source said.
The official also pointed out that the draft law is in line with the international practice. "Countries like Germany, Spain and Finland all have legislative acts, which protect rights of believers. This is a normal and natural process," the source said.