Innovative bureaucrat for modernized Russia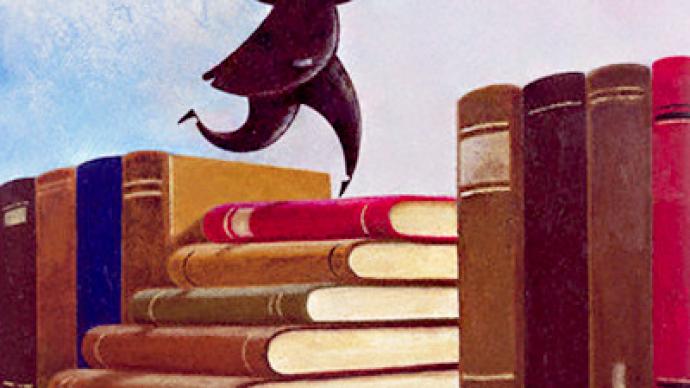 Ministry of Economic Development has come up with its vision of a perfect civil servant for an innovative Russia: educated abroad, with knowledge of foreign languages and younger than 50. At least that is the plan for 2020.
The Ministry has published a strategy of the country's innovative development for the next decade. The multi-page document sets guidelines and priorities that should help Russia modernize its economy. And since proper state administration is to play a key role in leading the country in the right direction, it has to be modernized as well.First of all, state servants will be encouraged to improve the level of their education and some will be given a chance to study abroad. The good news for the army of Russian bureaucrats – and perhaps not so good for tax-payers – is that the state will provide them with two-years' paid leave while they grind away at their studies. According to the plan, in ten years, 12 per cent of specialists working for the state will have been educated abroad.Online newspaper gazeta.ru notes that some experts say it is not quite clear what exactly Russian officials will learn in foreign schools. It would make sense if only those, for instance, who deal with innovations would be sent abroad, suggested Vladimir Yuzhakov, department director at the Center for Strategic Research. According to Pavel Kudyukin, an associate professor at the Higher School of Economics, Russian education still lacks programs on teaching public administration, so gaining experience from other countries would be quite useful. However, he added, in addition to the ovious benefits, there would also be an "unpleasant social moment," as many would wonder why only bureaucrats should enjoy such a privilege. "Why can't the same practice be introduced for teachers at schools and universities?" he believes is the question that will arise.The next task set by the Ministry's strategy is making at least one fifth of all state officials speak foreign languages by 2020. While many administrative workers speak good English, there still are a few embarrassing moments when it comes to Russians speaking in a foreign language. Just last month, Sports Minister Vitaly Mutko's speech "from his heart in English" at the FIFA headquarters when presenting Russia's bid to host the 2018 World Cup sparked a lot of criticism and sarcastic jokes.However, with a heavy Russian accent that no Hollywood movie has seen, Mutko promised that by 2018 he will speak English "like my friend [England's bid chairman] Geoff Thompson." And that is what all other senior officials will have to do as well, as according to the new strategy the knowledge of a foreign language at a good enough level to talk to partners from abroad will be among the requirements to attain the post.The aim of educating state officials and improving their qualifications is definitely worth the effort, believes Olga Kryshtanovskaya, director of the Center for the Study of Elites at the Russian Academy of Sciences. "Through the language we apprehend a different culture, including the political culture and bureaucratic logistics. We adopt other practices that could be transferred [to Russia], which would be very useful," she told Vesti TV Channel.But not everyone is so thrilled with the idea. One of the questions skeptics raise is whether it would be easier simply to hire those who are already qualified enough instead of wasting budget money.Sergey Smirnov, director of the Institute of Social Policy and Social & Economic Programs at the Russian Higher School of Economics suggests that administrative workers should be given a choice: if they want to keep the post, they can take leave and study at their own expense. "There is also another alternative – get an interpreter," he told Vesti FM radio station, adding that federal ministers could afford that. In addition to saving money, this would also allow give jobs to young, talented interpreters.In the strategy of development, the Ministry of Economic Development also calls on science, business, and, of course the state, to become more open to the rest of the world. The worldwide web should become a door through which foreigners are able to see what is going on in Russia, and get "actual information on the policies being pursued."Last year, the Russian Academy of Sciences made a clumsy attempt to open its doors to web surfers, but got lost in translation and turned into a laughing stock on the internet. It came up with some odd translations which made many in Russia blush rather than laugh. For instance, the Institute for Protein Research was named the "Squirrel Institute." That mistake occurred because Russian word for protein, "belok", is very similar to the word for squirrel, "belka".The new innovative strategy says that "fully-fledged English versions of websites" of state bodies will appear by 2012. In addition, the government will ensure that all important laws that regulate business activities will also be translated. As the country is actively seeking foreign investors to help it modernize the economy, that step should make it easier for foreign businessmen to get a clearer idea of the Russian legislation.Finally, the Ministry says many more young people will appear in the ranks of the public service within the next ten years. While now almost a half of them are over 50 years old, by 2020 only 30 per cent of administrative workers will be older than that. Earlier, the call to bring new blood into the Russian state machinery was voiced by President Dmitry Medvedev. Back in summer last year, he suggested reducing the retirement age for civil servants from 65 to 60.Russia's ambitious goals include becoming one of the global leaders "who set world political agenda", and also improving the population's well-being. The only possible way to achieve these desired outcomes, the authors of the strategy say, "is the transition of the economy to an innovative, socially-oriented model of development." The steps towards that uneasy path have now been defined.
Natalia Makarova, RT
You can share this story on social media: