Top Russian officials reveal their incomes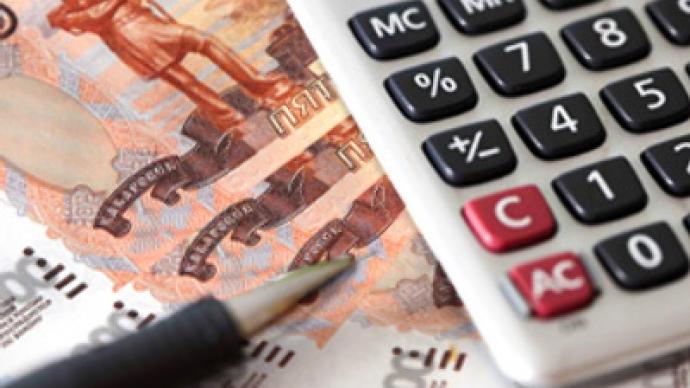 How much do the Russian President and Prime Minister make a year? Information on the top officials' incomes was revealed Monday. According to tax filing, last year Dmitry Medvedev earned $27,000 less than in 2008.
The data on the revenues and property of Dmitry Medvedev, his wife Svetlana and son Ilya has been published on the Kremlin's official website. According to the Russian leader's income statement, in 2009 he earned 3,335,281 rubles (about US$115,000). He has twelve bank accounts worth 3,574,747 rubles ($122,000) altogether, and rents a 4,700 sq meter piece of land in Russia.
Also, last year a new item appeared on Medvedev's property list – a Soviet era GAZ-M20 Pobeda (Victory) car. Earlier in April, the president invited his Ukrainian counterpart Viktor Yanukovich – who was on a private visit to Russia – to take a ride on the 1948 automobile, the pride of the USSR for many years.
The Russian leader's wife Svetlana has a modest $256 account in a bank, owns two parking spaces and a Volkswagen Golf made in 1999.
Russia's first couple owns a 368 sq meter apartment in Moscow. The youngest member of Medvedev's family – 14-year-old Ilya – has neither income nor property.
The same day as the Kremlin, Russia's government has made public information about their and their families' incomes. According to the cabinet's website, Premier Vladimir Putin earned 3,889,807 (about $133,000) in the past year, which is 700,000 less than in 2008. Indeed, the global financial crisis seems to have hit everyone.
Just like the president, the head of the government has a soft spot for Soviet era cars: he owns a GAZ-M21 and GAZ-M21R – known as "Volga". However, there is also a modern Russian off-road vehicle in the Prime Minister's garage – a Lada Niva.
Putin also owns 1,500 square meters of land, two flats – one of which is on the basis of the right of unlimited use – and a garage. His wife Lyudmila earned only 582 rubles ($19) and has no declared property.
According to the data published, the richest Russian senior official is Natural Resources and Ecology Minister Yury Trutnev, who made 155 million rubles last year and owns several posh vehicles, including a Porsche Cayenne and a Maserati Granturismo.
Foreign Minister Sergey Lavrov's income equals to 3,937,500 rubles (about $134,000).
Even though top officials' revenues are no secret to anyone in many Western countries, for Russia this practice is relatively new.
In a move to fight one of Russia's worst problems – corruption – in December 2008, Dmitry Medvedev signed a law obliging officials, including the prime minister, deputy prime ministers and ministers, to report not only their own incomes but also those of their family members – spouses and children. On March 10, 2009, at a meeting of Council on Fighting Corruption, he said the same rule should apply to the president and his family.
You can share this story on social media: