Putin against hijab in schools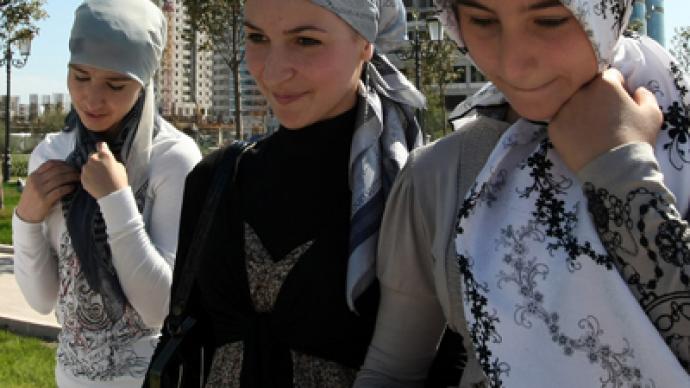 People's religious feelings must be respected, but Russia is a secular state, President Vladimir Putin stated in a comment on a recent controversy over a Russian school banning Muslim girls from attending classes while wearing a hijab.
"We should see how our neighbors, European states deal with this issue [wearing hijabs]. And everything will become clear," Putin said on Thursday, at a meeting with Popular Front movement. The president stressed that decisions on the matter can only be made in an acceptable form – so that no one is hurt – and after a discussion with clerics. He pointed out that Russia is home to adherents of different religions and stressed that religious feelings must be treated with great respect. However, "we are a secular state and we should act on this premise," said Putin. Under the general rules of a secular state, the church is separated from the state, he observed. Over 80 per cent of Russia's population consider themselves Orthodox Christians, Putin noted. If the country retreats from secularism, if everyone is not treated equally, representatives of other traditional religions in the country will "feel infringed upon." The president also favored the idea introducing school uniforms. That would help to consider religious feelings and, also, help to sort everyday problems. "It's not really pleasant when some [children] come to school chicly dressed, while others are dressed modestly, to put it mildly, and feel like second-rate people," Putin observed. There is "a good tradition" in some European countries, where uniforms are worn both in schools and colleges, he noted.Earlier this month, parents of several Muslim girls in a village in Russia's Stavropol Region filed complaints at the district prosecutor's office over their children being banned from school for wearing hijabs. They stated that the school had violated their constitutional rights to education and freedom of religion. The issue drew wide public attention.
You can share this story on social media: