Putin lays down law to officials in leaked video
Published time: 17 Apr, 2013 11:38
Edited time: 17 Apr, 2013 15:09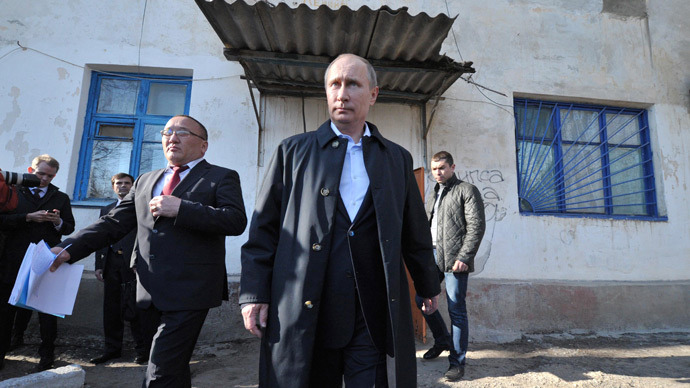 President Vladimir Putin has told regional officials that their lethargy in executing his orders issued almost one year ago could cost them their seats.
The announcement was made at a conference between the president and key regional and cabinet officials in the southern Russian republic of Kalmykia on Tuesday evening. The thrashing part was closed to the press, but nevertheless the record of it was published by the Lifenews website.
Putin reminded that his key orders concerned promises he made during last year's election campaign – to raise salaries in the social sector, to make kindergartens  more readily available and, most importantly, to resettle citizens who still dwell in old houses in urgent need of repair.
"You must do this! If we fail to achieve this we will have to admit that either my own performance is not effective or you are working poorly and you have to go. And I would like you to pay attention to the fact that presently I am inclining to the second option," Putin said in the video from the conference.
Lifenews, however, released the video together with comments that suggested that the president was telling off the federal cabinet and that his threats could mean the impending dissolution of the government.
Other Russian mass media also picked up the news and began reporting that the federal government was in hot water.
The presidential press secretary immediately reacted, saying that not only was the recording made in violation of ethics, but Lifenews had completely distorted the meaning of Putin's words.
"The released material, as it follows from the president's own words, relates to the closed part of the meeting," Dmitry Peskov told reporters. He stressed that the president's words concerned the regional governors, not the government ministers, as Lifenews suggested.
It should be noted that the conference was held one day before Prime Minister Dmitry Medvedev delivered his report on government performance to the State Duma. Medvedev was expected to face some criticism from MPs especially those of the opposition caucuses, but in general his report concentrated on the positive aspects of the cabinet's performance.