First Georgian president's widow seeks political asylum in Germany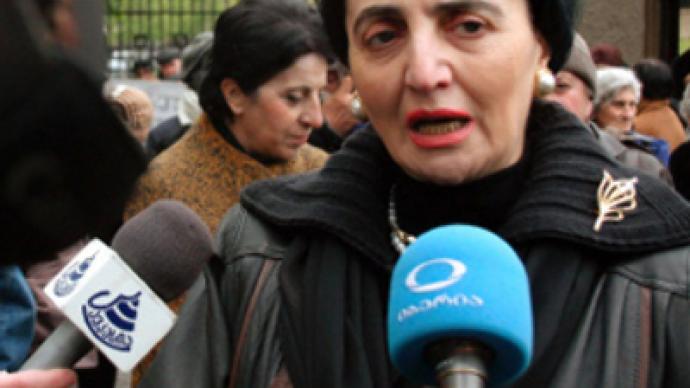 Manana Archvadze-Gamsakhurdia, widow of the first Georgian president, says she cannot take the pressure any longer in her native country and has formally appealed to German Chancellor Angela Merkel for political asylum.
Gamsakhurdia says she is being forced to resort to these measures due to the continuing persecution of her family by the current Georgian government.
"The entire world will find out the wife of Georgia's first President, Zviad Gamsakhurdia – the man who created the foundation for an independent Georgia – is being forced to leave Georgia. Based on this, I think the whole world will support me," said Manana Gamsakhurdia on Monday, as quoted by Ria Novosti news agency.
She hopes to attract attention to the case of her son Tsotne Gamsakhurdia, who is currently on hunger strike in a Georgian prison.
Tsotne was arrested at the end of October for allegedly wounding his neighbour with a gun in a fight.
However, Tsotne Gamsakhurdia himself says he was attacked late one night when he was on his way home. An unknown individual struck him over the head and took off with his briefcase. Tsotne was getting stitched up in hospital when police came and arrested him.
Since then, he has been incarcerated. Insisting he is not guilty, Gamsakhurdia went on hunger strike, which lasted for almost a month, but was forced to stop on doctor's orders after he became dangerously weak.
His lawyer says he renewed the strike just a couple of days ago.
Tsotne had been arrested in Georgia before – for allegedly plotting a coup with intent to overthrow the current government of President Saakashvili, and for spying for Russia. But his guilt wasn't proven then and he was freed on bail.
Even in Georgia itself many say the country's authorities seem to be on a witch hunt for alleged spies – focusing mainly on Russian citizens of Georgian descent.
Among them is Vladimir Vakhania, who was arrested on October 12 this year, also on charges of espionage and gun possession. He was given a four-year prison sentence, which he is currently serving in a Tbilisi jail.
Vakhania himself says all charges have been fabricated by the Georgian authorities, and he was the chosen target because of his outspoken criticism of the current Georgian government.
In total, there are more than a 100 political prisoners currently serving time in Georgia.
Leaders of Georgian opposition and human rights advocates have all voiced their concern over human rights violations in the country.
Manana Gamsakhurdia's late husband and Georgia's first president Zviad Gamsakhurdia was an avid supporter of Georgia's sovereignty and independence. She says, it's absurd that 15 years after his mysterious death she is forced to seek justice elsewhere – simply because it cannot be found in President Saakashvili's Georgia.
Irina Galushko, RT, Tbilisi
You can share this story on social media: