Teaching a lesson: Georgian President rewrites history to his liking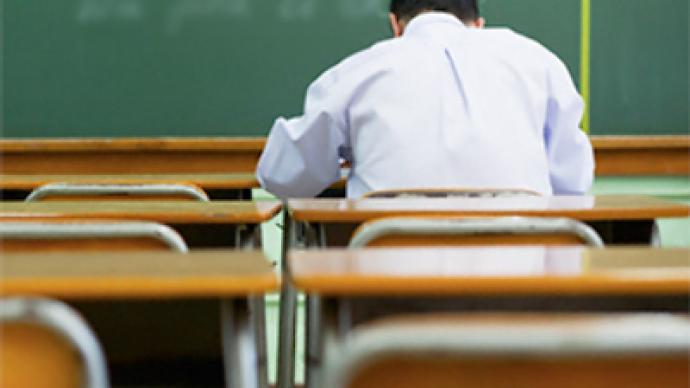 President Saakashvili is out to teach another history lesson. A new textbook will be added to school curriculums at the start of the next school year, outlining the so-called 200-year-long Russian occupation of Georgia.
A special commission was set up in April to examine Tbilisi's relations with Moscow. The new textbook is the direct result of the findings.
The book kicks off in 1801, when the Russian Emperor signed a decree on the annexation of Kartli-Kakheti (which is what now a part of Georgia) to the Russian Empire.
The textbook ends with the war of August 2008 between Georgia and South Ossetia, in which Russia supported the latter. Diplomatic ties between Moscow and Tbilisi were broken off soon thereafter.
Many Russian historians criticize the new textbook, saying it does not mention the fact that Georgian rulers themselves asked Russia for protection in the 18th century, when the Georgian kingdom was under the strain of constant encroachments by Turks and Persians.
Some Georgian historians agree the measure is necessary. In their opinion, it's time to put an end to the myth of Russo-Georgian centuries-long friendship, and face the facts.
Historian Simon Maskharashvili believes the new addendum will put an end to what he calls a myth of Russo-Georgian centuries-long friendship. He says it could be cast aside, if disagreements between Moscow and Tbilisi over South Ossetia and Abkhazia, which Georgia calls «occupied territories» will be settled.
But Manana Nikolaishvili, President of Georgian Education League, believes focusing on Russia lone is unfair. She says Georgia has repeatedly been under attack from Persian and Ottoman Turk forces, to name a few, and so a special textbook should be written for each such occupation – without a nod to Georgia's current trend in foreign relations.
"According to the authors of the textbook, the small but proud Georgia fought with Turks, Persians and other enslavers, but couldn't manage to fight against Russian imperial forces," said professor of Moscow State University for Foreign Affairs Vladimir Medinsky in an interview to Russian newspaper Vremya Novostey.
He goes on to add that, "Georgian children have no idea that the Russian Empire took their ancestors under its helm only after a series of insistent requests to do so by the Georgian rulers – after Turks and Persians put the Georgian people on the brink of extinction."
_______________________________________
Fact box
Starting in the 14th century, Georgia – then broken into several smaller kingdoms – came under repeated attacks from the Turks and Iran for more than 400 years.
Some of the invaders, like Shah Abbas, sought to annihilate the Georgian people altogether. Georgia turned to Russia in the 18th century, seeking protection from its large neighbour, with whom it shared one, but vital, trait – Christianity.
The Treaty of Grigorievsk put Georgia under the protectorate of the Russian Empire, but Georgian nobility felt the status did not provide sufficient safety measures.
It took Russian Emperor Pavel I one year to finally decide to annex Georgia, after a request from the dying Georgian king Gheorgi XII.

_______________________________________
The changes to the curriculum come just a week after Georgian President Mikhail Saakashvili announced his readiness to start a dialogue with Russia on all disagreements between two countries.
Historian Zurab Bragvadze says such inconsistency in rhetoric is indicative of the Georgian authorities' inability to work out a stable policy towards its relations with Moscow.
"Where's the logic?" asked Bragvadze, "Is raising children, who will see Russia as a monster, their end goal? Years later these children will have to build new relations with Russia."
Irina Galushko, RT, Tbilisi
You can share this story on social media: