Russian FM calls for Israel-Hamas ceasefire following attacks on Gaza media center
Published time: 19 Nov, 2012 11:57
Edited time: 19 Nov, 2012 17:32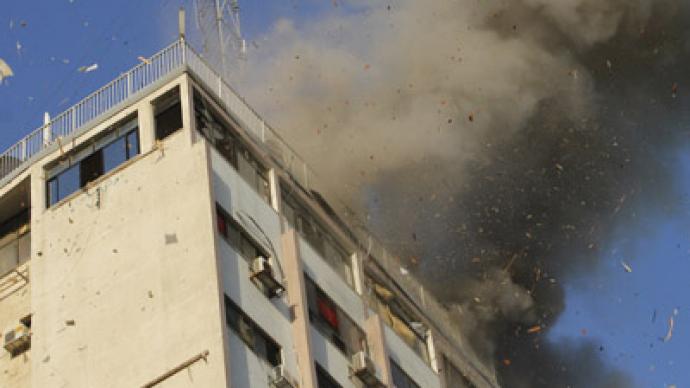 Russia's Foreign Ministry has urged an immediate ceasefire between the Israeli Defense Forces (IDF) and Palestinian militants to avoid more fatalities.
Moscow labeled rocket attacks against Israeli territory unacceptable, while calling Israeli strikes on the Gaza Strip disproportionate. Russia vowed to engage the UN Security Council and the Middle-East mediating Quartet (the UN, EU, Russia, and the US) to normalize the situation.
"Moscow deems necessary the soonest end of the armed confrontation. We urge the conflicting sides to put an end to military operations in order to prevent new casualties. We reaffirm that shelling of the Israeli territory and disproportionate strikes on Gaza, which harm innocent civilians, are unacceptable," the Russian Foreign Ministry said in a statement.
Russia has condemned in the strongest terms the Sunday airstrike on the international media compound in Gaza. As a result of the attack, several foreign TV channels, including RT Arabic, lost their offices in the conflict zone.
Though all personnel were evacuated after the initial assault, overall six journalists were injured. One of the wounded, a cameraman with the local al-Quds TV, reportedly lost his leg. Local Ma'an news agency reported that most hits were targeting the office of the official Palestinian al-Quds TV on the 11th floor of one of the two buildings.
Israel attacked over 1350 targets since the beginning of Pillar of Cloud operation on November 14, Russian diplomats stated. About 90 Palestinians were killed – at least a third of them were women and children.
Meanwhile, over 1,000 missiles and shells have been fired from Gaza to the Israeli territory since the beginning of the conflict. About 200 Israeli citizens were injured, the Russian Ministry says citing media reports.
Earlier, Russia's top diplomat Sergey Lavrov discussed the situation via telephone with Foreign Minister of the Palestinian National Authority Riyad Al-Maliki. Lavrov confirmed Moscow's stance on the unacceptability of attacks from both the warring sides.
On Thursday last week, President Vladimir Putin spoke with Israeli Prime Minister Benjamin Netanyahu. He urged the sides involved in the conflict "to display restraint," not to follow the path of escalation of violence, and to do "everything possible to bring the situation back to normal."
Smoke rises after an Israeli air strike on an office of Hamas television channel Al-Aqsa in Gaza City on November 18, 2012. (AFP Photo/Mohammed Abed)