Israel's US ambassador tweets for Hamas dialogue, deletes post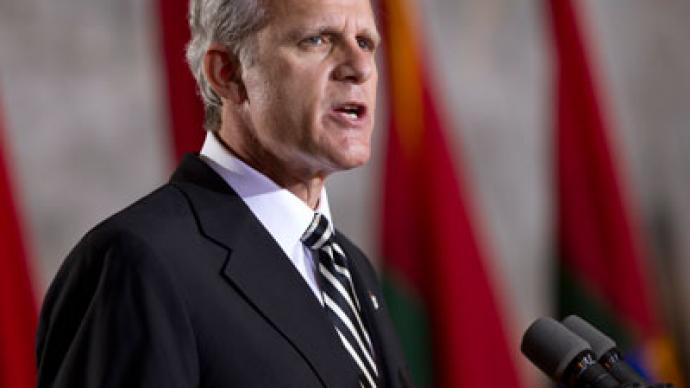 Israeli ambassador to the US has reportedly deleted his tweet saying that the Israeli government wants to sit and talk with Hamas. Ambassador Michael Oren said that his tweet was "sent erroneously by a staffer."
­The post was allegedly written after the ambassador gave an interview to CNN, and said, "Just appeared on the set of #CNN: #Israel willing to sit down with #Hamas – if they just stop shooting at us." However, shortly afterwards, the post was deleted, and another one appeared, "Correction: the earlier tweet about my CNN interview was sent erroneously by a staffer."BuzzFeed.com reported that the initial tweet on talks was a paraphrase of a comment made by the ambassador during the interview, with Michael Oren mentioning that the Israeli government would agree to negotiate. However, in his on-air comment the ambassador didn't refer to Hamas directly.
Screenshot from twitter.com user @AmbassadorOren
Screenshot from twitter.com user @AmbassadorOrenA spokesman for Michael Oren has then emailed to BuzzFeed.com that "Ambassador Oren signaled in his interview our willingness to sit with our Palestinian neighbors – not with Hamas."On Saturday, regional parties, including Egypt and Turkey, carried out four-way talks in attempt to broker a ceasefire. Egypt's President Mohammed Morsi maintained that the solution could soon be reached, but there were "no guarantees."Israeli Prime Minister Banjamin Netanyahu told foreign leaders Saturday that he would agree to a ceasefire if Hamas agrees to stop rocket fire from Gaza. Qatari Emir Haid Bin Khalifa al-Thari and several Palestinian leaders also participated in the negotiations.A senior advisor to Palestinian Authority President Mahmoud Abbas touted the Egyptian efforts to broker peace while deploring the Israeli actions."President Abbas has consistently offered negotiations for a two-state solution, but Israel has shown no interest in these negotiations. So this is the result. And the Palestinian people pay the price," the advisor told Al-Monitor, a website specializing in Middle East coverage. At least 49 Palestinians have been killed in the conflict, with the number including militants, civilians and children. Three civilians have been killed by airstrikes from Gaza in Israel.