Gaddafi awarded "anti-NATO resistance fighter" title by Ukrainian party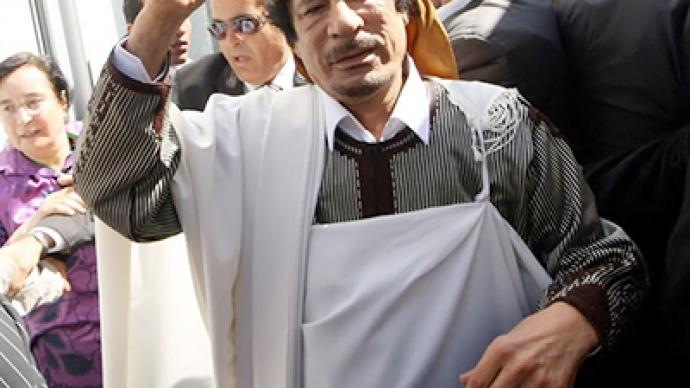 The Progressive Socialist Party of Ukraine has awarded the Libyan leader Muammar Gaddafi an honorary title for his fight against Western powers.
The party's central committee unanimously decided on Tuesday to award Gaddafi for his "heroic fight to defend the Libyan people from aggression of NATO troops." Violating the UN Security Council's 1973 Resolution, the alliance launched "a hunt for the fearless leader of the Libyan revolution," the party's official website said. Natalia Vitrenko, a flamboyant Ukrainian politician and the party's leader, will hand over the award to the Libyan consulate in Ukraine. She also demanded that the United Nations "immediately intervene in the situation" with the North African country to stop the airstrikes.Earlier, Vitrenko had flown to Libya herself to take part in the conference "Hands off Libya." She has repeatedly spoken against the international operation. The politician once even said she"despises" US Secretary of State Hillary Clinton as a woman who "calls for an aggressive war."In Ukraine, the leader of the Progressive Socialist Party fights NATO by organizing protest events against the country's joint maneuvers with the alliance's member states.Vitrenko has chaired the party, which failed in parliamentary elections, since 1996. She was a candidate in the presidential election, winning 11 per cent of the votes in 1999 and less than five per cent in 2004.The party nominated her for the 2010 presidential election again, but the election commission refused to register the politician for failing to pay the nomination deposit.
You can share this story on social media: