FSB battens hatches ahead of March vote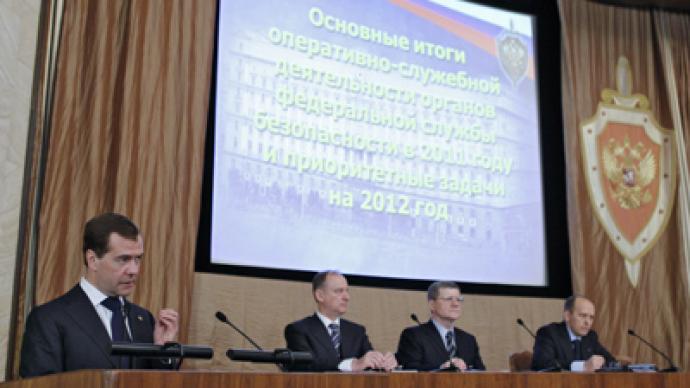 The FSB will ramp up anti-terror operations, as well as responses to attempts to influence politics from abroad, in the lead up to March 4th presidential elections.
Speaking at the enlarged collegiate of the Federal Security Service, President Medvedev acknowledged its achievements in fighting terrorism and extremism and also in countering foreign intelligence. He reminded the assembly that in 2011 the FSB cut short the activities of 41 staff officers of foreign intelligence agencies and also uncovered 158 agents who worked for foreign intelligence, including 26 Russian citizens. The FSB also managed to prevent eight terrorist attacks, the president said. At the same time, the president said that these results show that the activities of foreign special services and terrorist networks remain on a high level and the Russian security services must be ready for this. Medvedev especially stressed the growing threat from the North Caucasus terrorist underground.The president also reminded that it was necessary to thwart all possible provocations of the extremists in times of elections. The president said that the security officers must pay more attention to new challenges in the information sphere, particularly the terrorist and extremist propaganda as well as general promotion of violence. Additionally, Medvedev called upon the security service to pay more attention to the defense of Russia's Arctic borders and countering industrial espionage. The president promised the security officers that the government would continue to improve the social guarantees for them and, starting from 2013, the FSB will adopt the new payment system that is currently being introduced in the armed forces.
You can share this story on social media: