Former Ukrainian PM Tymoshenko goes on trial over abuse of power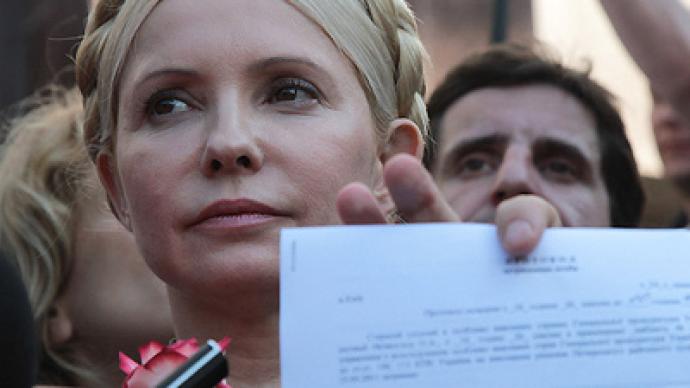 Yulia Tymoshenko, a former Ukrainian PM and presidential candidate, is going on trial over an alleged abuse of power while signing gas contracts with Russia in 2009.
The court hearings that started on Friday is the third court proceeding launched against Tymoshenko in Ukraine. The first case dealt with the embezzlement of funds acquired from the selling of carbon emission quotas to bankroll pension payments, while the second was connected with the purchase of a batch of ambulances at inflated prices.  The third set of accusations pertain to the purchase of gas and subsequent transit agreements between Ukraine and Russia that Tymoshenko signed as prime minister in 2009. Prosecutors accuse the former PM of abuse of power, which they claim damaged Ukraine's financial interests. They do not claim Tymoshenko personally benefited from the deals. Ukrainian authorities now seek the reversal of the contracts, though thus far they have been unsuccessful.Also on Friday, a group of Tymoshenko's supporters held a rally near the court building on Krashchatik street in central Kiev. Reporters and participants of the rally said that around 5,000 pro-Tymoshenko supporters took to the streets, though police have not confirmed this figure. At the same time, another group of demonstrators were holding a rally against Tymoshenko as they lobbed corruption accusations at her.   The court room where the proceedings took place was relatively small and could not house all those who wanted to witness the trial. The European Union's ambassador to Ukraine, Jose Manuel Pinto Teixeira, called the conditions in the court room "inhumane" as he left the court building on Friday around noon. The diplomat added that he was not able to politically evaluate the case.  Earlier this week, Tymoshenko announced that she had turned to the European Court of Human Rights for protection. The former PM complained that the cases against her were politically motivated. It has not been reported yet if the court has accepted the suit. On Friday Tymoshenko's defense asked the court to remove the judge but the court refused.Incumbent Ukrainian president Viktor Yanukovich has strongly denied any political motives behind the cases and said that only the court can rule that Tymoshenko is guilty of the crimes she is accused of. "Investigators have prepared their papers and the defense has surely prepared their arguments. And I think we will see who is right and wrong at the open court session and then we will be able to make conclusions," Yanukovich said at a recent press conference in Strasbourg.