Former Defense Minister Serdyukov questioned in major graft case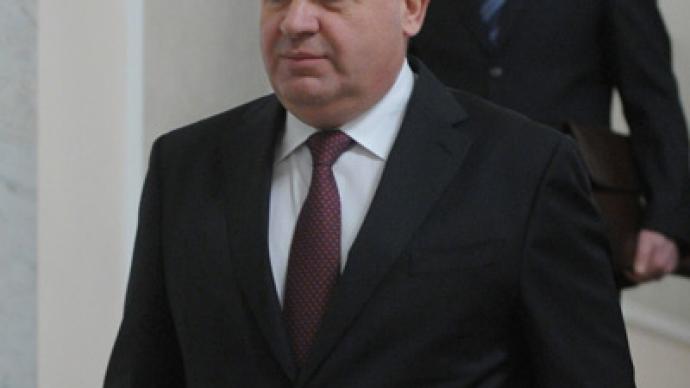 Former Russian Defense Minister Anatoly Serdyukov has arrived for questioning within the multi-million-dollar graft case that earlier cost him his post, but refused to give evidence.
Serdyukov's questioning was pre-announced by all Russian media and some even started to suspect that the former official could flee the country, but this appeared not to be the case. On Friday morning the official spokesman of Russia's top law enforcement agency – the Central Investigative Committee – told the press that the ex-minister arrived at the agency's office to be questioned as a witness. Anatoly Markin noted that it took a lot of time to prepare the questioning of such a high-ranked person and promised that Serdyukov's testimony would become the basis for further investigation.However, a short time after Markin's speech, news agencies reported that Serdyukov refused to answer any questions because his lawyer was sick and could not be present, and with that the interview was over. The ex-official was then handed a summons for the next interview which is scheduled for January 11. One day earlier, Serdyukov's defense attorney, famous Russian lawyer Genrikh Padva, told the press that his client was only a witness in the case "and was not suspected of anything, not even close."In early November, Serdyukov was sacked from the post of defense minister, which he had occupied since 2007. This was a result of a major corruption scandal that unraveled a short time earlier as agents of the Central Investigative Committee claimed that several companies affiliated with the Defense Ministry were involved in the embezzlement of at least 4 billion rubles (about US$130 million). According to investigators, a highly-placed executive picked lucrative assets of real estate, invested state funds in them and then sold them off to friendly structures at significant discounts. A total of 10 criminal cases have been joined into one probe, but law enforcers claim that the number of uncovered crimes can rise in the future. Several people were charged within the case, including the former head of the Defense Ministry's property relations department, Evgenia Vasilyeva, who is described in the press as Serdyukov's personal friend. As the graft case unfolded, President Vladimir Putin said that the ex-minister can face charges if investigators manage to prove that he was involved in crimes, but no sooner than that. At the same time Putin warned the journalists against excessive enthusiasm, saying that it was wrong to arrest the former minister "just to please someone." Prime Minister Dmitry Medvedev has praised Serdyukov's work as the defense chief and emphasized that all charges of corruption must be thoroughly checked and presented to the court.