Russian FM says NATO sliding towards ground operation in Libya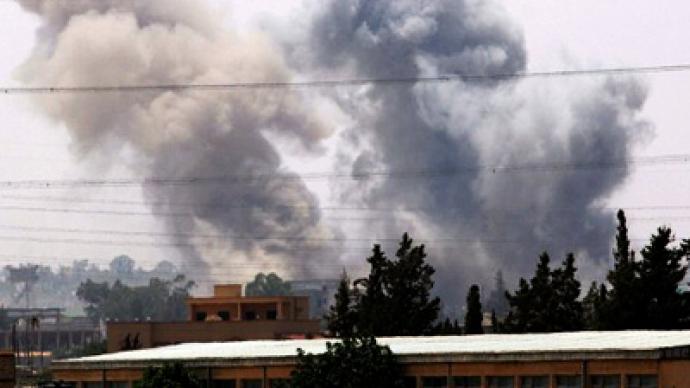 Russian Foreign Minister Sergey Lavrov has said that the use of helicopters in Libya by Britain in France indicates a gradual slide to a ground operation in the country, and thus violates the resolution of the UN Security Council.
Speaking at a press conference in the Ukrainian city of Odessa, the top Russian diplomat said that NATO had already violated the UN resolutions on Libya and reiterated that the Russian leaders were very concerned with such course of events. "We know that the Great Britain and France intend to use combat helicopters there. We have already given our evaluation of NATO's actions. We think that either premeditated or involuntary movement towards a ground operation is taking place. This will be very lamentable," Lavrov said. On Saturday, NATO officially confirmed that is had used combat helicopters for the first time in its military operation in Libya. British and French military officials also said that they used Apache, Tigre and Gazelle attack aircraft against troops loyal to Colonel Muammar Gaddafi. The Russian minister added that violations of the Security Council's resolutions had already taken place and were sufficient reason for everybody to start thinking about their attitude to the position of the supreme international body dealing with promotion of peace and security. "We are not concealing our position. We have already voiced it in public. We have an impression that our Western partners understand that the Libyan events are taking an unwanted turn, but the inertia of the already-taken decisions is continuing," Lavrov stressed. Lavrov also commented on the international involvement in the Yemeni conflict. He said that the attempts of Russia's Western partners to politicize the situation in this country would only lead to an escalation of cruelty and prevent a resolution of the situation. The Russian official stressed that the dialogue between the conflicting parties was the only peaceful solution to the crisis. Russia abstained in the UN Security Council vote on the resolution authorizing the use of force in Libya, but President Medvedev amended the Russian legislation in accordance with the resolution, banning the sales of arms to Libya and also refusing Gaddafi and his close circle the right to enter the Russian Federation. Speaking at the G8 summit in late May, Medvedev said that Gaddafi had exhausted his legitimacy and must go. At the same time, Russian officials have repeatedly criticized the resolution and warned that it could lead to a lengthy war with numerous casualties.Russian presidential envoy Mikhail Margelov is arriving in Libya on Monday. Margelov plans to visit the city of Benghazi, which is the main base of rebels seeking to overthrow Colonel Gaddafi's rule. In an interview with Russian media before his departure, Margelov confirmed that he planned to meet he leaders of Libya's National Transitional Council.
You can share this story on social media: