First nationalist party registered under new Russian law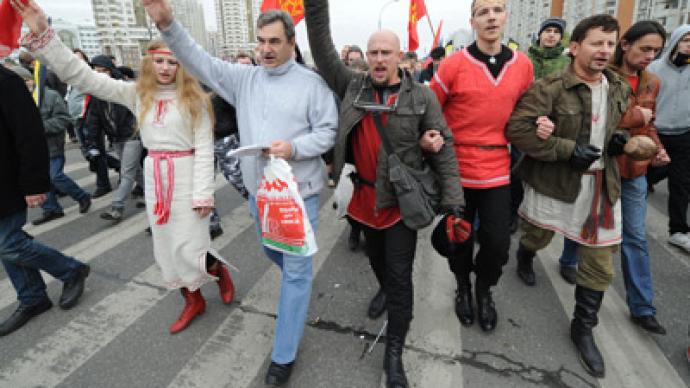 The Justice Ministry has registered a political party with the declared objective of creating a unified state of Russia, Ukraine and Belarus called the Russian Union.
The party is called the Russian People's Union and is the first nationalist party registered under the new, much simpler rules adopted earlier this year. It should be noted that the word "Russian" in the party's title is used to describe the territory or state, not the ethnicity or language.The party is headed by Sergey Baburin, a leftist nationalist politician who, despite his relatively young age of 53 years, was a member of the Communist Party and a member of parliament in the Soviet Union. After the Soviet Union broke up Baburin continued his political career and in 2003 became deputy chairman of the State Duma as a member of the nationalist bloc Rodina (Motherland). However, when Baburin's organization the People's Union declared the intention of running on its own in early 2007, authorities refused to register its candidates.Another notable figure in the new party is Baburin's deputy Ivan Mironov – a top member of the Congress of Russian Communities, an organization defending the interests of ethnic Russians in foreign countries and son of the head of the unregistered National Sovereignty Party of Russia. In 2006 Ivan Mironov was arrested on suspicion of conspiracy to murder key Russian reformer Anatoly Chubais, and spent two years in pre-trial custody before being cleared by a jury and court. Another deputy of Baburin is former M1 mixfight champion Roman Zentsov.The party declares its slogan as "National power, national politics, national economics," and sees its primary objective in building a strong and unified state of three Slavic peoples – Russians, Belarusians and Ukrainians – first as an interstate union and later as a single political entity.The registration of the Russian People's Union brings the number of political parties in Russia to 26, from only seven before the new rules came into force.
You can share this story on social media: