Federation Council speaker "does not plan" to run for presidency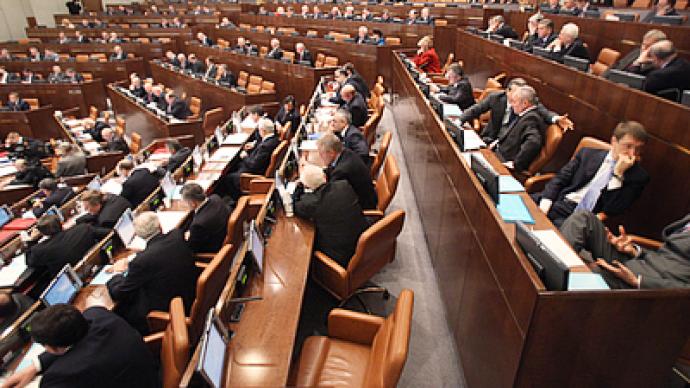 Sergey Mironov, the chairman of the Russian parliament's upper house, says it is for his Fair Russia party to choose a candidate for the 2012 presidential election.
According to Mironov, he "is not planning" to nominate his candidacy for president. In an online interview with Gazeta.ru on Thursday, he said the Fair Russia party would nominate its candidate later. The party will have to choose the candidate during the election campaign for the Russian parliament in 2011, he said. "We will watch the situation and assess our strength," Mironov noted. Ironically, during an online interview with the same source in March, Mironov hinted he was ready to run for president. If the party decides to nominate its candidate, "I hope that most likely this role will be given to me," he was quoted by Gazeta.ru as saying. However, he then made it clear that the party may abstain from nominating its candidate. Meanwhile, many believe Mironov is losing his positions as the speaker of the upper house. He has been at loggerheads with the ruling United Russia leadership for a long time. Mironov is keeping accusing the rival party of trying to take control of the Federation Council. United Russia has a majority in the lower house, the State Duma. When the time comes, Federation Council deputies will decide who should head the upper house, Mironov told Gazeta.ru. Meanwhile, the speaker has initiated a reform of his own party. State Duma Deputy Oleg Mikheev is expected to fulfill the plan and try to make Fair Russia "the number two party" during the parliamentary elections in 2011. There are no signs that Mironov is willing to stop criticizing policies supported by the ruling United Russia party. He suggested that the Federal Agency for Youth Affairs "should be dismissed" and criticized the state's approach to these matters. "There is no definitive youth policy in Russia," Mironov said, commenting on the recent disturbances in Moscow, in which football fans and nationalists took part. According to Mironov, part of the problem is that nobody works with young people, and the Federal Agency for Youth Affairs is not fulfilling its duties. Mironov also called the decision by a government commission to approve the construction of a controversial Moscow-St. Petersburg highway through the Khimki Forest "regrettable." It was not "highly regrettable" as in its first version, he said. According to the speaker, it was good news that the government made a concession and decided not to construct parking lots, service centers and other facilities along the road.