Presidential race 2012: first possible runner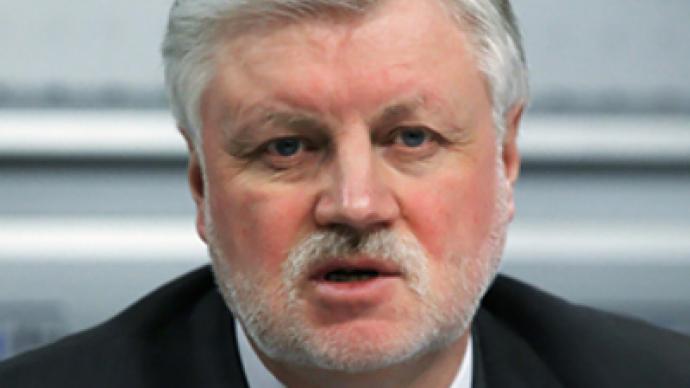 Federation Council speaker Sergey Mironov, the chair of the Fair Russia party, has hinted that he might run for presidency in 2012 and ruled out Medvedev and Putin running against each other in the campaign.
"I believe that if the party [Fair Russia] decides to nominate its candidate, I hope that most likely this role will be given to me," Mironov said Monday in an online interview with gazeta.ru. "If – I want to underline that – we decide it is necessary to nominate our own candidate".
The 57-year-old politician said that the Fair Russia will make its decision on the issue in the fall of 2011, during the State Duma elections. The 2007 campaign brought the party 7.8 per cent of votes, which put them in fourth-place: the ruling United Russia party received an impressive 64.1 per cent.
Even though that was enough for the party to cross the then-required 7-per-cent barrier and make it to the parliament, it is not what Fair Russia would be happy with next year. Mironov said that he would only be satisfied with "several times as much as the previous" result.
As for the so-called "tandem" of President Dmitry Medvedev and Prime Minister Vladimir Putin, the upper chamber Speaker said they "are members of the same team" and he is certain they "will remain such in the foreseeable future, far beyond the year 2012."
It is "absolutely impossible" that the allies will both run for presidency in the next election.

The fact that the Fair Russia has become first to talk about the possibility of nominating its presidential candidate and Mironov himself speaking about joining the race notify a significant change in the party's policies.
Three years ago, when Putin was ending his presidential term, Mironov vowed to nominate Putin presidential candidate in 2012.
"I think Vladimir Putin's return as president in 2012 is more than possible and even necessary, and Fair Russia will be happy to advance his candidacy," the speaker said back then.
It might sound surprising that Fair Russia was going to nominate Putin – now the chair of the United Russia party. However, at that moment, the former Russian president was not leading any party; neither was he a member of any political faction. Notably, even being the chairman of the dominant party, Putin is still not a member of it.
Formerly a strong supporter of Putin, Mironov has now turned into a fierce critic of the prime minister's policies, and calls United Russia "a trade union of bureaucrats".
Earlier this year, the United Russia leadership, angered by Mironov voicing disagreement with the 2010 budget and some Putin-proposed anti-crisis measures, threatened to demand the upper chamber speaker's resignation. Eventually, however, the row abated, making some analysts think the fuss was about drawing attention to Fair Russia prior to the regional elections on March 14.

Natalia Makarova, RT