Medvedev's false blog conducts opinion poll
Published time: 28 Jun, 2011 06:25
Edited time: 28 Jun, 2011 12:39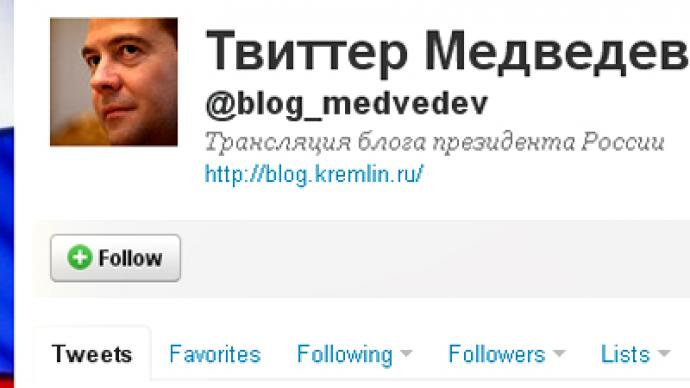 The user of Dmitry Medvedev's false twitter account has asked its followers what they think about the new head of the Right Cause party Mikhail Prokhorov as a potential prime-minister.
­The internet prank even made it onto the wire service of a large news agency.
Shortly after Monday's meeting between President Dmitry Medvedev and businessman Mikhail Prokhorov, who was recently approved as the sole leader of Right Cause on Saturday, user @blog_medvedev posted the following tweet:
"What do you think about Mikhail Prokhorov as the leader of Right Cause? Would you vote for a tycoon? Does he deserve to be prime minister?"

The entry immediately received about a dozen comments.
"Prokhorov is like a breath of fresh air. Modern, comprehensible approachable and has common sense. He is more than worthy," @nn_lemur responded.
"A premier who suggests working 60 hours per week, well…" @nchernyh did not finish his thought.
Even Interfax news agency bought into the rouse.  
"In his microblog, Russian president Dmitry Medvedev asked internet users to share their opinion about the new leader of the Right Cause party Mikhail Prokhorov with whom the president had a working meeting on Monday," the agency reported.
However, Interfax later corrected the mistake, citing "technical reasons" for the error. Some time later, the Kremlin's press service also confirmed that @blog_medvedev has nothing to do with President Medvedev's two official accounts on Twitter, which are @KremlinRussia and @MedvedevRussia respectively.

@blog_medvedev has almost 42,000 followers with more than 2,500 tweets posted. At first glance, it could indeed be taken for an official page of the Russian leader. The president's press service earlier reported on the false account but errors like this one still occur.
Businessman turned politician, Mikhail Prokhorov does not make a secret of his ambitions – to make it to the parliament in the short term and even to become prime minister in the long (or not-so-long) run.
"I am not the kind of person who tends to dream or embrace delusions. We have particular goals – to get into Russia's lower house of parliament with the maximum number of votes. What I also understand is that I could be a good prime minister. If the party is successful, I will fight for this position," he told RT on Sunday.