Twitter shuts down mock Medvedev account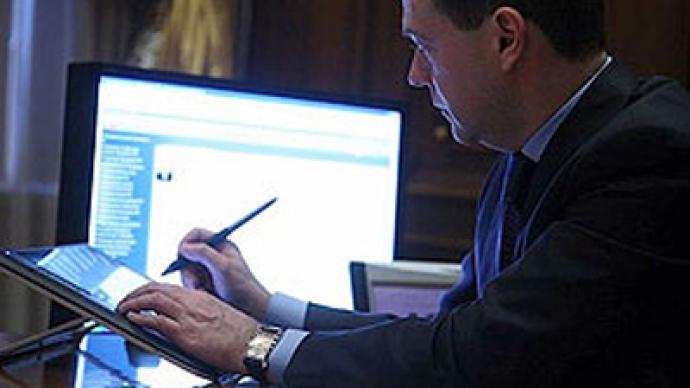 At the Kremlin's request, administrators from Twitter have shut down a fake account which was professedly posting information from President Dmitry Medvedev's official micro-blog.
Nicknamed blog_medvedev, the account was at first suspended, and then completely deleted from the popular online service this weekend."We did complain to the administrators of Twitter. Any person can do that if one thinks that someone's blog infringes on their interests and violates the security policy adopted by twitter," a representative of the internet section of the Kremlin press-service told Interfax news agency.The false micro blog looked very similar to Medvedev's real account and contained posts on both domestic and foreign political issues. However, it had nothing to do with the Kremlin's official stance and it was not created by the presidential administration. The blog had over 42,000 followers who apparently believed they were reading Medvedev's tweets.The last straw seemingly came with a mock account entry in which the author surveyed public opinion regarding the potential prime ministerial candidacy of the new head of the Right Cause party.Shortly after a meeting between Medvedev and billionaire Mikhail Prokhorov, who had been approved as the sole leader of the pro-business party, user @blog_medvedev wrote: "What do you think about Mikhail Prokhorov as the leader of Right Cause? Would you vote for a tycoon? Does he deserve to be prime minister?"The post immediately received a lot of responses as even Interfax took the bait, reporting on the move. The error was subsequently corrected.Under Twitter's rules, an account user cannot pose as another person in the deliberate attempt to mislead or deceive other people. In addition, it is banned from using symbols found on approved accounts. An active internet-surfer and keen fan of new electronic gadgets, Medvedev became the first Russian president to go online and start a video blog on the web. He registered his Twitter account back in June of last year while visiting the website's headquarters in Silicon Valley. Later, Medvedev decided that a single account was not enough for him and split it into two – @KremlinRussia for official announcements and @MedvedevRussia for personal remarks and photos. Medvedev started a new fashion among Russian politicians, many of whom followed closely in his footsteps by creating their own blogs as well as pages on other social networking sites. At the same time, a lot of fake accounts sprung up posting either humorous or sharp political comments.
You can share this story on social media: