Europe's big fat Greek crisis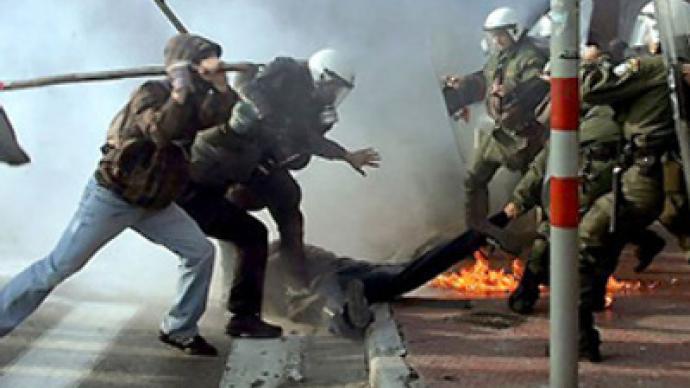 Athens was the scene of a deadly labor strike on Wednesday, the day before legislators in the Greek capital are scheduled to vote on a tough loan package courtesy of the IMF.
In order for Greece to be eligible to receive a 110 billion euro ($145 billion) bailout of its financial system, Greek Finance Minister George Papaconstantinou said it was necessary for the nation to accept tough cost-cutting measures set down by the EU and International Monetary Fund. But his request comes at a time when the global financial crisis has already forced many Greek citizens into dire straits, if not outright poverty.
The belt-tightening IMF plan requires that Greece cut its budget deficit to 3 per cent of the country's gross domestic product – as required by European Union rules – by 2014. Furthermore, public- and private-sector workers would be forced to accept salary cuts and pension freezes at a time when they can least afford it. Finally, to add to the misery, taxes will inevitably start to rise.
The demonstrations – which seemed to encompass everybody from mild-mannered school teachers to violent anarchists – expressed anger that the IMF plan fails to punish those individuals who were responsible for the financial crisis in the first place – namely, "corrupt politicians, banks and executives of the largest companies."
That pent-up anger turned deadly yesterday as protesters set fire to a bank in central Athens, killing three employees – two women and a man – who became trapped in the building.
Prime Minister George Papandreou condemned the attack on the Marfin Egnatia Bank and the resultant deaths, saying people who condone such actions would never receive "shelter or political support."
"There can be no shelter, no direct or indirect political support for them," he said. "Each citizen has a right to demonstrate, but no one has the right to resort to violence, especially violence leading to the murder of our citizens. And we know that violence produces violence. Protest is different to murder."
Wednesday's deaths represented the first such demonstration fatalities in nearly 20 years in Greece, and have shocked many Greeks citizens.
Late Wednesday, President Karolos Papoulias said there were no words to describe his "distress and outrage".
It is estimated that between 50,000 and 75,000 people joined in the strike protests in Athens yesterday.
Can Greece endure more sacrifice?
Papandreou then told reporters that the IMF bailout is designed to prevent the country from going bust, which would hurt working people far more than what is now being asked of them.
But the prime minister's words of encouragement have not removed the ill feelings that many Greek citizens have for the austerity plan.
"I have a family of five to feed," said one protester who was carrying a pro-Communist banner near the Parthenon. "Why should I be forced to accept a reduction in my salary when it was these filthy bankers who robbed the country?"
The protester, who identified himself as Alexandros of the Communist Party of Greece (KKE), was also dismayed that his father's pension would be frozen.
"My father worked for 30 years without ever missing a day, and now the state wants to freeze what he rightfully earned," he said.
"They're mostly angry that their salaries are going to be significantly cut and their pensions frozen," reported Diana Magnay on CNN. "They're angry against a whole range of measures, and the IMF involvement is something that frustrates them more because they feel it is their democratic right to have a parliament that decides rules for them has been taken away."
"Now," explains Magnay, "they have this external body of the IMF coming in and deciding what to do."
Will the Greek meltdown turn contagious?
The European Union is desperate to contain the financial meltdown that continues to plague Greece, lest the contagion spread to other parts of the Continent.
German Chancellor Angela Merkel, whose government has been a leading player in overseeing the bailout of the Greek economy, said that containing the crisis is a crucial objective for the European Union.
"The future of Europe and the future of Germany within Europe is at stake," she said.
Meanwhile, IMF chief Dominique Strauss-Kahn said there was a threat that the Greek "contagion" could strike other already-weakened European economies.
"There are always risks," he said. "We must avoid contagion, and that is also what the Greek plan was tailored to do."
Fears of the Greek crisis spreading to other parts of Europe have taken their toll on markets. On Tuesday, there was a major sell-off of European and American stocks, which by Wednesday was being felt in the Asian markets.
The euro also fell to a new one-year low of under $1.30.
But it is important to note that Greece is not alone in its economic troubles. According to statistics complied by Eurostat, 13 of the 27 EU member states have debts of more than 60 per cent of their gross domestic product, the minimal level set by the European Commission. Now, European governments are facing the difficult task of weaning their people off generous social packages in order to tame their exploding debts.
The question now, however, is which will explode first: the European streets or the debt load?
Meanwhile, Moody's, a leading credit ratings agency, says the debt crisis hitting Greece could eventually affect the banking systems of other countries, including Portugal, Italy, Spain, Ireland and the UK.
The agency said Thursday that "a key factor determining whether contagion risk continues in this case will be the market's view of the likely success or otherwise of the recently-agreed International Monetary Fund and European Union support package for Greece," AP reported.

Robert Bridge, RT
You can share this story on social media: