Heads of regions could be jailed over ethnic conflicts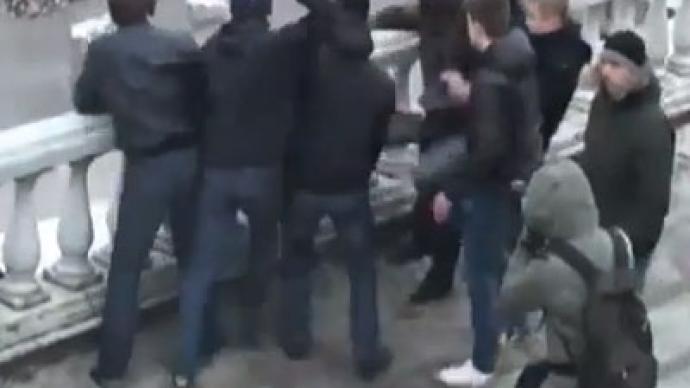 Russian lawmakers suggest introducing criminal liability of regional governors for inter-ethnic conflicts on their territories.
Under the draft law, governors who allow such conflicts to occur would have to pay a fine of up to 500,000 rubles (US$ 16,000).In case a head of a region 'encouraged' clashes between different ethnic groups by words or actions, he or she would face a punishment of up to two years in jail.
The State Duma deputies believe the move will help to prevent serious ethnic clashes in the country, writes Izvestia daily.
The proposal caused mixed reaction among heads of regions.
Dmitry Kipru, acting chief of Kondopoga district in the republic of Karelia, says that current laws are already strict enough.
That is despite the events in the region that shocked the entire country back in 2006 when the small town of Kondopoga was hit by days of ethnic violence. It followed the murder of two locals – ethnic Russians – by natives of Caucasian republics and resulted in the detention of over a hundred protesters. The town authorities were later blamed for failing to maintain public order.
"When a situation is running out of control and clashes occur, the head [of a region] should certainly bear responsibility for that," Tambov region head, Oleg Betin told Izvestia.

Meanwhile, human rights advocates fear that the proposed law may become an instrument for political reprisals.
"I'm absolutely against this initiative," Evgeny Bobrov from the presidential Council for Human Rights stated. In his view, it is regional Federal Security Service (FSB) departments that should be answerable for clashes between ethnic groups.
Nationalist leader Dmitry Dyomushkin (head of the "Russians" movement) is confident that the suggested legislation will only lead to attempts to conceal inter-ethnic conflicts.
Tensions between different ethnic groups have lately been on the rise in Russia, culminating in December 2010 riots on Moscow's central Manege Square. Thousands-strong protest followed the shooting of football fan Egor Sviridov by natives of the North Caucasus.
Youths of a non-Slavic appearance bleed after being attacked by right wing protesters in central Moscow December 11, 2010.(Reuters / Stringer Russia)