Unlikely alliance: Prokhorov pledges support for heavy metal rocker in Moscow mayor elections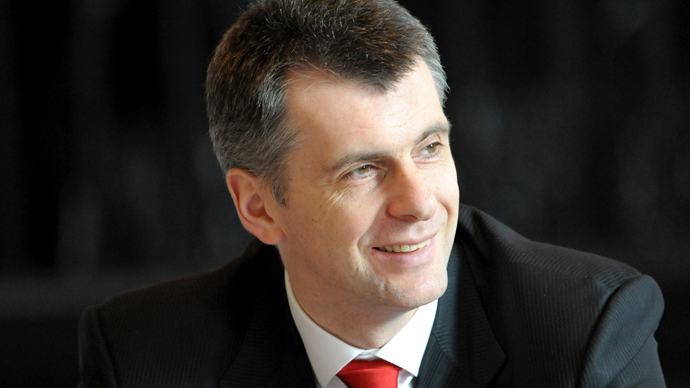 Billionaire and media mogul Mikhail Prokhorov has promised to back one of the most bizarre figures of Russian politics, whose program includes introducing a visa regime in Moscow and replacing migrant workers with robots.
After announcing last week that he did not plan to participate personally in the September 8 mayoral race, Prokhorov said on the talk show 'Iron Ladies', aired by NTV, that his personal sympathies lie with the frontman of a heavy metal band, Sergey Troitsky, aka 'the Spider'.
Prokhorov called the current campaign "elections without a choice" and said that he wanted to support Spider purely in order to make the elections more interesting. He added that some time ago he was a fan of heavy metal music.
The Spider's program is certainly interesting. He has announced that he would introduce visa regime in the city, remove all restrictions on smoking and replace migrant workers by specially-designed robots made to look like characters from children's cartoons.
Before registering as a candidate in the Moscow mayoral race, Sergey Troitsky ran in elections in two suburban towns – Khimki and Zhukovsky. His platforms were equally bizarre and included, for example, building huge oxygen generators to solve ecological problems. He lost in both polls, garnering only a miniscule number of votes.
Apart from promising to back the Spider, Prokhorov also ruled out his support of popular anti-corruption activist Aleksey Navalny, saying that while he was very successful as a whistleblower, it takes a much more constructive approach to be a good mayor. Besides, Prokhorov noted that he did not share Navalny's harsh nationalist stance.
Navalny is running for the opposition Russian Republican Party (RPR-PARNAS). He is currently on trial over a major graft case, but can still take part in the poll if he is not convicted before it is run. Navalny claims that the process against him is politically motivated.
Prokhorov's own potential participation in the Moscow mayoral elections was possibly the hottest topic of Russian politics after incumbent Mayor Sergey Sobyanin submitted his early resignation, necessitating the poll.
With Prokhorov's participation yet unannounced, politicians and observers discussed how the billionaire would deal with his numerous foreign assets, as Russia has recently introduced a law that forbids top-level politicians from possessing foreign securities or holding accounts in foreign banks.
Some expected that Prokhorov would put forward his sister Irina, who is known for her charity projects and an intellectual program on her brother's TV channel RBC, as a mayoral candidate.
However, Prokhorov said that his party would participate in next year's elections to the Moscow City legislature with the slogan "The mayor is yours, but the Duma is ours." He reiterated this intent in the weekend TV show.
"I will not go anywhere, I will fight for my Moscow and I will prove it during the Moscow Duma poll," Prokhorov stated.
At present there are nine registered candidates in the mayoral race. Five of them are independents and four are backed by political parties. Acting Mayor Sobyanin on Monday registered as an independent, despite his membership in the parliamentary majority United Russia party.

You can share this story on social media: