Election boss refutes violations as parliamentarians seek to cut his beard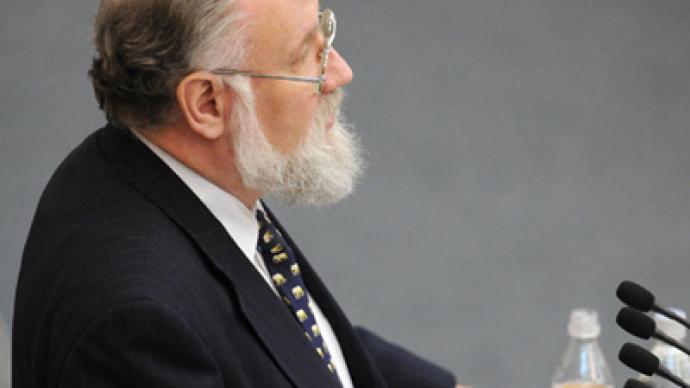 The beard of Russia's Central Election Commission head occupied an unusually large place in Duma discussions Friday, as Vladimir Churov spoke on alleged violations in December's election. He had promised to shave, should Russia hold an unfair vote.
Churov's visit to the State Duma was much anticipated by the press as well as the public – the #Churov hashtag even made it to the top of the Twitter ranking on Friday. The reason behind this is the ongoing discussion over December's parliamentary election, which mainstream and fringe opposition alike say was marred by numerous violations. Mass protests hit Moscow at the end of last year, with one of the key demands being Churov's resignation. On the day of the Duma session where Churov delivered his speech, a lone girl with a placard stating "We demand fair elections!" stood near the entrance to the State Duma. As the weather in Moscow is extremely cold right now, the commission head went into the street and invited the protester to continue her one-person rally inside, which she duly did, standing with her placard in the State Duma conference hall. Duma deputies remained unimpressed by Churov's chivalry. Anatoly Lokot of the Communist Party even presented the CEC chairman with scissors, so he could cut his beard. The head of the Liberal Democratic faction, Igor Lebedev, was more direct and asked if Churov was ready to resign. Churov, for his part, did not give a direct answer, saying instead that if he resigned straight away, there was a chance that the country would remember him as a positive character. Churov called on the parliamentarians to concentrate on the discussion at hand, not on self-promotion.The head of the Central Election Commission said that the complaints about numerous violations sounded strange, especially coming from opposition parties that sent few monitors to the elections and often learned about these violations from the authorities. He also added that the reported violations, such as the removal of monitors from polling stations, are being thoroughly investigated and that all those responsible will face punishment. The CEC Chairman also suggested a move to further improve the electoral procedure in the country: forming regional election commissions once every five years, so they have enough time to be trained ahead of polls.Head of the Investigative Committee Aleksandr Bastrykin, who spoke after Churov, reminded the assembly that most of the cases involving violations were opened after complaints made not by opposition, but by the parliamentary majority United Russia. This includes incidents when United Russia uncovered attempts to rig the vote in its own favor, which it sees as deliberate provocation.
You can share this story on social media: