Russian MPs prepare to visit Syria - speaker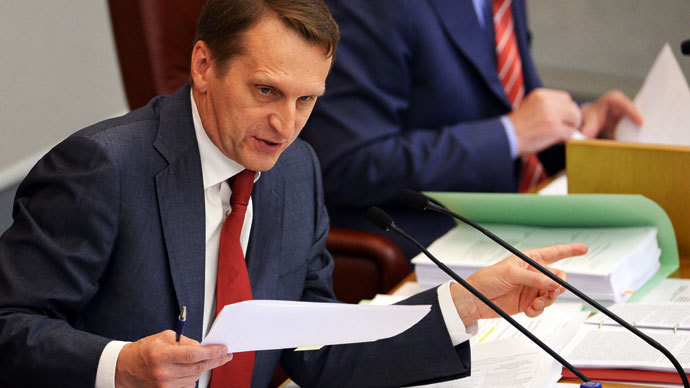 State Duma chairman Sergey Naryshkin said a group of MPs are preparing for a visit to Syria in order to meet local parliamentarians and prevent the use of force during the settlement of the crisis in this country.
The Russian Lower House speaker made the announcement during the Tuesday session of the Open Tribune discussion club. He said the State Dume passed a special statement on the situation in Syria earlier this month, and that the US Senate had turned down the Russian parliament's suggestion to hold a special meeting on the situation in Syria.
The head of the Lower House said the US's refusal to hold negotiations was proof of their unpreparedness for a dialogue, but Naryshkin also said that despite this regrettable fact, diplomatic resources were not exhausted. The Russian speaker went on to say that the plan to put Syrian chemical weapons under international control has been positively assessed even by politicians who staunchly supported the military solution before this plan was suggested.
Naryshkin also said that the terrible lessons of the twentieth century were an obligation not to allow the collapse of the system of international law, and the devaluation of the international political institutions.
Also the head of the Russian Lower House said he intended to raise the Syrian question at next week's session of the Parliamentary Assembly of the Council of Europe.
Russia and US are currently negotiating the details of the plan to secure Syrian chemical weapons by mid-2014, coordinated by the two nations' foreign policy chiefs, Sergey Lavrov and John Kerry following a suggestion from Russian President Vladimir Putin. Moscow insists that any discrepancies and disputes are solved through consultation with the UN Security Council, while the United States suggests that any suspected violations are dealt with by military force.