State Duma warns Russians against revolutions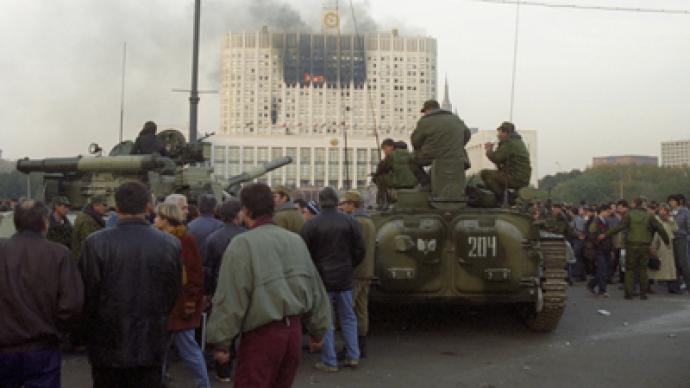 Russian lawmakers have urged stability in the development of the country's political system and say that anything other than that should end in punishment.
"Stability is most important. It largely depends on us, what the political process [in Russia] will be like," said Vladimir Vasiliyev, the head of the United Russia's fraction in the Duma. Revolution "mercilessly devours anyone who is keen on it," the MP added speaking at a meeting of the recently created Council of Non-parliamentary Parties. He said that in the past the country has gone through a turbulent period of transition from the Soviet era to a new type of state.It's estimated up to two million Russians every year choose to live abroad and the main reason for that is "lack of stability," Vasiliyev admitted.Any breaches of the law will "certainly be punished," as one person's freedom ends where another person's freedom begins, the majority party member emphasized.Russia "doesn't need any revolutions again," even if parties will have to give up their political ambitions for that, agreed Vladimir Zhirinovsky, the head of Liberal-Democrats. Members of the parliament along with representatives of about 30 political parties that have no seats in the Duma gathered on Tuesday to have their say on amendments to the Russian electoral law. Earlier in December, President Vladimir Putin suggested the return to a mixed system of parliamentary elections. That would mean that half of the seats in the 450-member house would be filled on a proportional basis based on the number of votes each party gets. The other half of deputy mandates would go to candidates elected through direct voting. The country's political life has been active following the 2011 Duma election, when thousands took to streets to protest alleged vote fraud. The government, for its part, vowed to organize a dialogue with the opponents. The creation of the Non-parliamentary Parties' Council was aimed to set up such a dialogue.As part of an ongoing political reform, several crucial laws – including that on simpler registration for political parties – were adopted. As a result of that, the number of parties has increased dramatically.
You can share this story on social media: