Parliament prepares to grill Putin on government work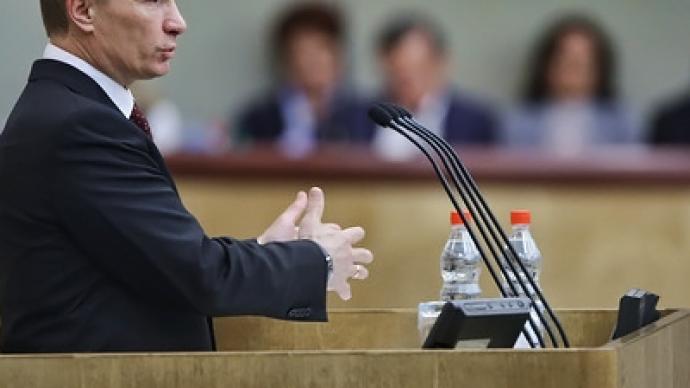 The State Duma Council will present a list of questions from the parliamentary factions to Prime Minister Vladimir Putin, which he will answer during his annual government report.
On April 20, the prime minister is scheduled to provide his annual report to the State Duma detailing what sort of progress the government is making on various projects. According to Duma Speaker Boris Gryzlov, Putin's presentation will be followed up with a series of 10 minutes speeches by the four parliamentary factions, in addition to a Q&A session, in which the factions will be permitted to ask Putin three questions each.."It will be a thorough discussion of the government report [on its work] in 2010," Gryzlov said, as quoted by Itar-Tass. It is expected that the parliamentary factions will focus their questions to Putin on social policy, such as the salaries of employees of state-financed organizations, as well as the progress being made in housing, education and agriculture, reports gazeta.ru. The Communists, for example, are expected to grill Putin over what steps the government took in response to their criticism of the new law, entitled, "On Education".The Liberal-Democrats, meanwhile, are concerned about the country's economy, which, they claim, has failed to keep pace with Brazil, India and China, the so-called BRIC nations of which Russia is included. The Fair Russia party, among other things, is interested in the prime minister's comments on the so-called brain drain, which is robbing the country of its brightest talent, as well as what has been done to prevent highly educated and skilled Russians from leaving the country.As for United Russia, the parliamentary-majority ruling party, they will focus their questioning on the issue of teachers' salaries. Dmitry Peskov, Putin's press secretary, said earlier that only the United Russia party will submit their questions to the Premier – who is also chairman of the party – prior to the session. The other parties will present their questions directly to the Prime Minister during the meeting. Nezavisimaya Gazeta, the Russian daily, asked Otari Arshba, Chairman of the Duma Regulation and Organization Committee, whether he thinks the procedure of the meeting is appropriate since all questions are known in advance. Arshba stressed that the organization of the meeting was "a collective decision of the parliament". "If we ask questions and submit them in advance, it means that we want the Premier to provide an answer and want to give him adequate time for prepare. It is not our task to fail anyone," he said.
You can share this story on social media: