Russian deputies urged to wear uniform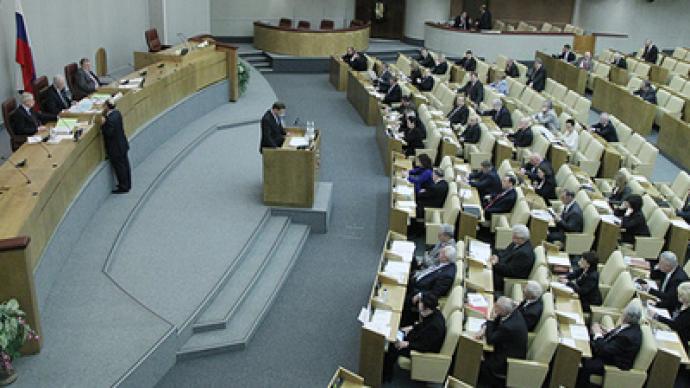 A member of the legislative assembly in St. Petersburg, Elena Babich, has suggested that all deputies wear similar clothes during parliament sessions.
The aim is to help deputies think about their work rather than other things, explained Babich, who represents the Liberal Democratic Party. In the morning, lawmakers will not have to think about what to put on and will save time, she stressed. The city parliament may soon adopt a code of ethics and behavior. It will be developed not only for staff of the legislative assembly, but for deputies themselves, Babich noted. A similar code was introduced this week for personnel of the Russian parliament's lower house, the State Duma. In particular, staff members are urged not to smoke in the building and wear business-style clothes. Mini-skirts are discouraged.Babich proposed a chaste uniform style for deputies. She also spoke in favor of banning foul language during sessions and inside parliament buildings. According to the new code of ethics, those who swear or "voice false information" will not be given the floor for a month. "It is a serious punishment in the year of parliamentary elections," the deputy said. However, it was Babich herself who could have prompted the local assembly to create the commission on ethics. A year ago she asked deputies in very tough words to stop discussing what she viewed as nonsense. Speaker Vadim Tyulpanov then criticized the deputy for "substandard vocabulary," but agreed with her on the matter, Kommersant daily wrote.Babich is not the first to float "the utopian idea" of uniform for deputies. Five years ago a deputy of the same assembly from the United Russia party, Sergey Nikeshin, proposed that deputies, their assistants and journalists wear business-style outfits during sessions. Reporters proved to be the main obstacle. The local parliament refused to finance their new wardrobe to fulfill the initiative in full, and it was forgotten.
You can share this story on social media: