HR group slams Estonian Defense Minister over Nazi sentiments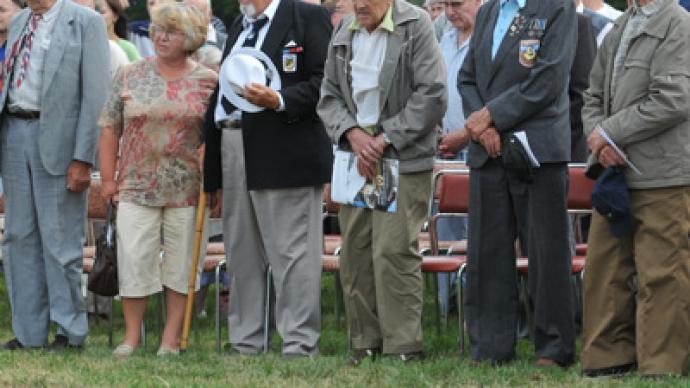 The Estonian Anti-Fascist Committee claims that the country's Defense Minister was justifying neo-Nazi sentiments in his recent speech before the congress of Estonian Waffen-SS veterans.
The comment was issued after Defense Minister Urmas Reinsalu spoke at the congress of "freedom fighters" – the veterans of the 20th Waffen SS division and other Estonians who fought on the Nazi side in WWII. The country's authorities refer to those people as "freedom fighters". The minister said then that the input of these fighters "saved the honor of the Estonian people" and also that it was "of decisive importance" for the Estonian Republic."Defense Minister Urmas Reinsalu again, speaking on behalf of the Estonian State, demonstrated to the whole world that Nazi ideology can be justified and those who followed Hitler's orders can become national heroes," reads the statement of the Anti-Fascist Committee. "The reason for such negligence to the norms of law and morals is based on only one thing – the higher echelons of power in the European Union are turning a blind eye to neo-Nazi sentiments and refuse to pay attention to the falsification of history and the making of Nazi criminals in Europe into heroes," it continues.The committee also reported that it had sent an invitation to Russian Senator Mikhail Margelov, who represents the Pskov Region which borders Estonia, to personally witness the upcoming event dedicated to Waffen SS veterans that will take place in Estonia's village of Sinimae. This is not the first time Estonian authorities have been subject to criticism for glorifying Nazi collaborators. The Anti-Fascist Committee and other HR organizations have blasted the country's authorities for organizing marches of former SS legionnaires as well as other events, such as the international competition of special troops named after the Nazi Erna raid.Earlier this year, the Estonian authorities issued a visa ban on two Russians – a researcher and a reporter – who planned to take part in an international conference on WWII and Estonia's role in it.