"Day of Wrath" lasts half an hour in Moscow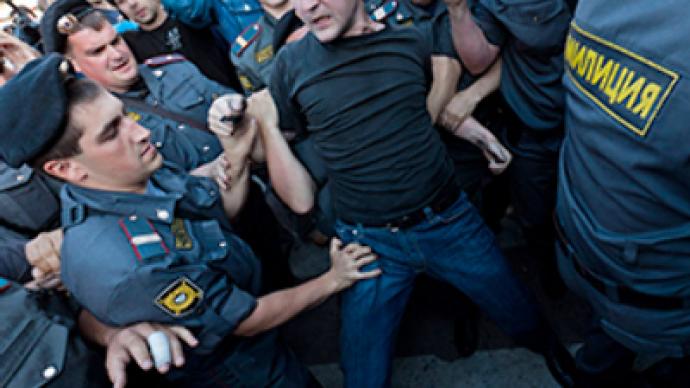 Police detained 31 people who tried to organize an unauthorized protest rally against the city authorities' policies in the center of Moscow on June 28.
The organizers of the action called "Day of Wrath" attracted about 100 people in front of the Moscow Mayor's Office on Tverskaya Square. The participants planned to demand the resignation of the Moscow Mayor Yury Luzhkov and Moscow Region Governor Boris Gromov, along with changes to the general plan for the city's development and the dismissal of the Moscow City Duma that had adopted this plan.
The action lasted for half an hour and after protesters ignored repeated orders to leave the square, police began to detain participants.
The leader of the movement For Human Rights, Lev Ponomarev, and the co-ordinator of the Left Front opposition group, Sergey Udaltsov, were among those detained. They gave out the so-called "black marks", or scraps of paper, to show their distrust in the city government's policies. The detainees were taken to police stations and later freed.
The rally was banned "illegally," Udaltsov told journalists. According to the Left Front leader, police accused him of disobedience. Ponomarev was accused of organizing and participating in an unauthorized action.
Meanwhile, Udaltsov and other organizers want to complain to the Investigative Committee of the Prosecutor General's Office against the Moscow officials "who provoked mass disorder by refusing to permit the rally," the Left Front's press service said. Several people who were injured during the dispersal will also lodge complaints against police.
The authorities had banned the rally because it "could have damaged the monument to Yury Dolgoruky" in the center of Moscow, suggesting two other possible venues. Udaltsov described the reason for the ban as "absurd," because concerts attracting thousands of people are held several times a year near the monument.
Sergey Borisov, RT
You can share this story on social media: