Pussy Riot uproar continues: FEMEN offers bounty for desecrating crosses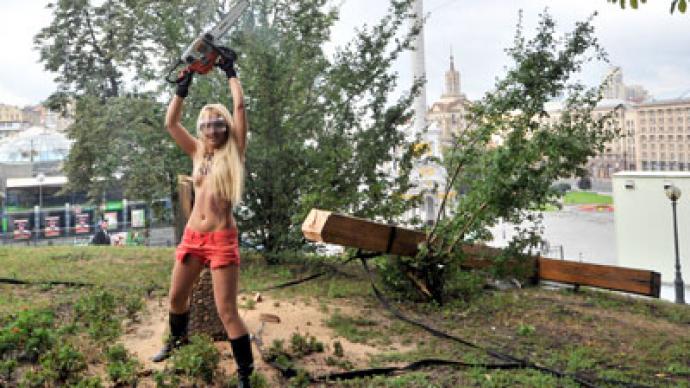 A group claiming to represent the Ukrainian feminist movement FEMEN has offered payment to anyone who desecrates Orthodox crosses and churches. Cutting down a cross will earn you as much as 6,000 rubles, or $188 US.
Leaving an inscription on an Orthodox cross will net around $62, while graffiti on a church wall comes with a nearly hundred-dollar reward. The bounty list was published on the Internet by Karina Pankova, a 23-year-old woman who presented herself as the leader of FEMEN's branch in northwest Russia's arctic city of Murmansk.The activist also invited "young and attractive" girls and guys to take part in unsanctioned actions "against federal and regional laws, and the housing and public utilities fee rise."For each such action, Pankova promised to pay 5,000 rubles (about $160). In addition, would-be hooligans will supposedly be provided with a driver and a guard for their activities. Trips to Scandinavian countries are being offered as an additional bonus. Paying police fines would be up to the activists, however.In an interview with the Vesti FM radio station, the young woman said she received money for the scheme from two businessmen who have invested in an Internet store selling goods with FEMEN's symbols. Funding for the group's activities will come from the Ukraine, Pankova said. The girl claimed that she is Muslim, but said that she had no personal prejudice against the Russian Orthodox Church. "Our actions will be not as startling as those by our Ukrainian colleagues. Girls won't undress because of our northern climate," she told Vesti FM. Ukrainian FEMEN activists believe that Pankova is trying to copy their movement for her own selfish ends. FEMEN's leader, Anna Gutsol, said she has only spoken once with Pankova, via the Internet. She called Pankova's campaign in support of FEMEN in Russia "a provocation," since the group never pays its activists and has no affiliation with the branch in Murmansk. Publishing offers to perform acts of vandalism can be considered a preparation for a possible crime, legal advocate Dmitry Vasilyev said. Local law enforcement has already taken an interest in Pankova's posts, REN TV reported. FEMEN's leader recently felled memorial cross with a chainsaw in the Ukrainian capital Kiev. Gustol said the act of vandalism was committed in a protest against the trial of the now-jailed punk band Pussy Riot. Shortly before the incident, three members of Pussy Riot were convicted of aggravated hooliganism and sentenced to two years in jail each for their so-called 'punk prayer' in Moscow's Christ the Savior Cathedral. The case has split the Russian society. Pussy Riot supporters claim the case was politically motivated, and that the punishment was far too severe. The court verdict was followed by a series of protests and acts of vandalism against religious sites across the country. Sporadic acts of desecration are continuing across Russia. This week, three residents of the central Russian city of Tver burned a wooden Orthodox cross that they had erected near a local chapel. Police apprehended the trio and are currently deciding whether they should be prosecuted, ITAR-TASS reported. And authorities in the city of Salekhard in the North Siberia region of Yamalo-Nenets region are allocating more than ten million rubles from the local budget to install a special cross on the city's main road. The ten-meter-high structure will be made completely of stainless steel, which would deter vandalism.