Crimean parliament approves new constitution making republic inseparable part of Russia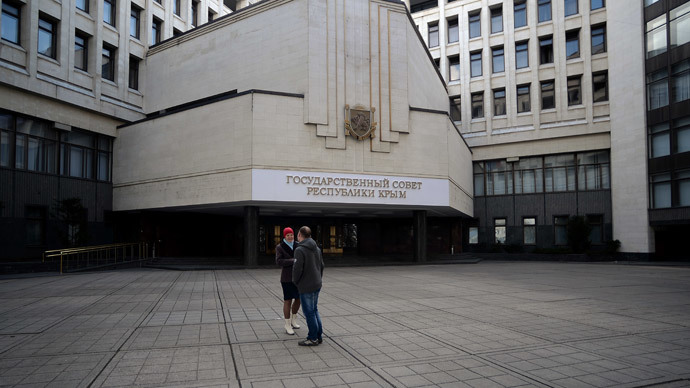 The State Council of the Crimean Republic has approved a draft constitution to become a new part of the Russian Federation, introducing some changes that allow smooth cooperation between regional and federal authorities.
The new constitution was approved by a unanimous vote on Friday, the Russian news agency Interfax reported. It will come in force after its official publication on Saturday, April 12.
The new constitution defines the Republic of Crimea as a democratic state within the Russian Federation and makes its territory an inseparable part of Russia.
The top executive official is to be elected by the republican parliament – the State Council – every five years. The same person cannot remain the head of the republic for more than two consecutive terms. The head of the republic is forming and dissolving the government and can also chair it.
The chairman of the Crimean State Council told reporters that the parliament intended to recommend the incumbent Crimean Prime Minister Sergey Aksyonov for the post.
The State Council itself will be reduced from the current 100 deputies to 75, but this will happen only after the parliamentary poll, preliminary scheduled for September this year. The Constitution does not detail the electoral system in the republic , this will be regulated by the regional law on elections that has yet to be passed by the State Council. Lawmakers will also have to pass about 300 laws detailing all areas of regional politics.
According to the Constitution, the Crimean legislature will pass local laws and also will be able to submit bills to the Russian State Duma.
In mid-March the Autonomous Republic of Crimea held a referendum on self-determination and an overwhelming majority of its population supported the plan to secede from Ukraine and join the Russian Federation. The decision was prompted by the political crisis in Ukraine, resulting in what has been described as a coup d'état against a lawfully elected president, and the fact that the first bills approved by the new Kiev authorities were infringing the rights of ethnic Russians.
The Russian parliament quickly passed several bills allowing Crimea's accession into the Federation and on March 21 they were signed into law by President Vladimir Putin.
You can share this story on social media: