Anti-corruption drive to target bureaucrats in clover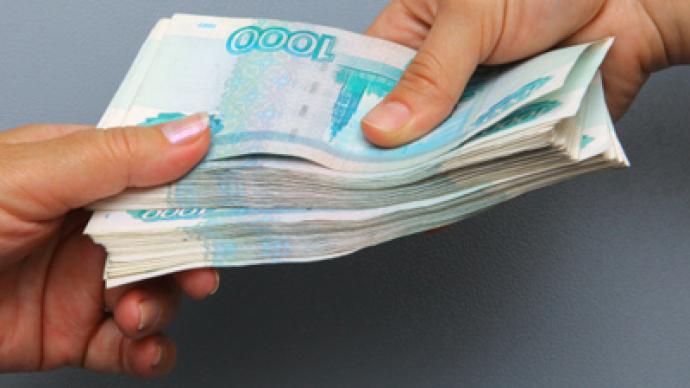 As the war against on corruption continues in Russia, the average bribe has risen to about $98K and bureaucrats remain the favored clients of real estate agencies selling elite properties in Moscow.
Denis Sugrobov, who heads the Interior Ministry's main economic security department, said on Thursday that the rising value of the bribes represents "danger money" to cover the risk of bureaucrats being caught red-handed, and is proof of the effectiveness of the department's anti-corruption drive.The financial crisis, inflation and spiraling prices seem to have hit everyone, but not some state servants whose main concern is how to save their money and increase the wealth. Bureaucrats account for about 60 % of buyers of Moscow real estate worth $ 1.5-2 million, said the director of sales at Penny Lane Realty Elite, Aleksandr Ziminsky. So-called "business-class" houses in the Moscow region are also quite popular among high-ranking officials. "State officials are the best clientele," he said, as cited by RIA Novosti.They buy properties for personal useas well as a way to invest money. Meanwhile, the government is mulling over additional measures to counter venality. Next week the lower house, the State Duma, will consider a bill proposed by President Dmitry Medvedev which will make it easier to fire corrupt officials. "Grounds for firing people [in cases of corruption] could include evidence revealed by investigations, but which is not presented in a way that can be used to launch a criminal prosecution. Such dismissals would essentially amount to dismissal on the grounds of loss of confidence," Medvedev told the St. Petersburg International Economic Forum on June 17. The Nezavisimaya Gazeta (NG) daily – which obtained the text of the draft law – writes that while it does provide for a dismissal "over loss of confidence," corrupt state officials' previous merits and faults would also be considered. Under the bill, officials who are involved in commercial activities, or who fail to disclose personal or family interests, may be fired. Submitting an incorrect family income declaration can also become a sacking offence. In addition, heads of state departments who fail to take action on their colleagues' corrupt activities may also face discharge from office.An expert with the State Duma Anti-Corruption Commission, Dmitry Gorovtsov, told NG that given all the nuances, the bill would not contribute much to the anti-corruption war, and is more of a pre-election move. Instead of making up novelties, he said, the leadership could simply ratify Article 20 (Illicit enrichment) of the UN Convention against Corruption and make amendments to the Russian Penal Code. A lawmaker from the ruling United Russia party, Natalia Ermakova, is less critical of the presidential initiative, saying no bills are ever perfect, "especially in such business as countering corruption." Since dishonest officials keep coming up with new corruption initiatives, the legislation in this field should also be constantly evolving. It should first be seen how the mechanism of loss of confidence works, she told NG. Later, if necessary, anti-corruption legislation can be changed and improved.
You can share this story on social media: