Jewish community outraged by attack on synagogue
Published time: 12 Jul, 2011 09:31
Edited time: 12 Jul, 2011 15:58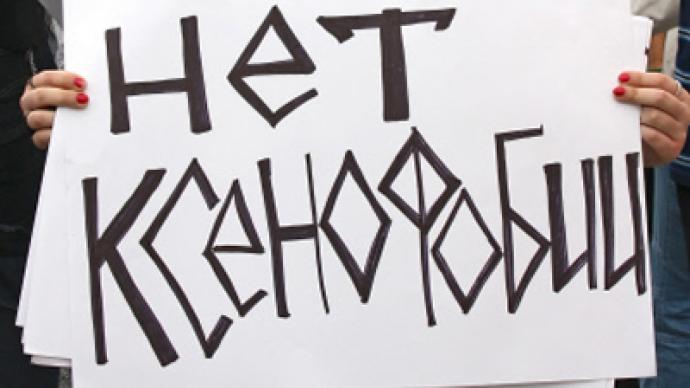 Russia's chief rabbi has made an appeal to rid the country of xenophobia following Tuesday's attack on a Moscow synagogue.
­Two strangers, presumably teenagers, threw four bottles with flammable liquid into the Darchei Shalom synagogue in the north of Moscow. The resulting fire saw parts of the building's external wall burnt. 
Rabbi Adolf Shaevich says the incident is a manifestation of xenophobia.
"We have a paradox now. There are many more believers in the country than before, but the spiritual and moral climate has not improved in any way," Shaevich said. "It is very sad when young people do such things. There could have been people inside, there might have been victims." 
The rabbi believes the roots of the problem lie in the fact that very little attention is paid to the youth. 
"It is almost impossible to enroll a child into a kindergarten or a good school," he pointed out. "It is the state that should deal with all these problems first and foremost." 
He added that despite all their efforts, religious organizations, be it Orthodox Christians, Muslims, Jews or Buddhists, are not viable substitutes for the state. "We only help," the chief rabbi said. "All of us need to work hard to eradicate evil from our society." 
The Federation of Russia's Jewish Communities has called on law-enforcement bodies to view the incident not as a simple act of hooliganism, but as an attempt to ignite inter-ethnic hatred. 
"Such incidents make it clear that crimes committed on national or religious grounds are propaganda in action. We are concerned by the fact that the Moscow authorities qualify such acts as hooliganism," claims the organization's statement as quoted by RIA Novosti. "In any case, it is an act looking to provoke religious hatred. The aim of such acts is to intimidate people, to weaken the eagerness of society to fight nationalism and extremism."
The Jewish community hopes that "the events will be used by law-enforcement bodies to both step up the fight against chauvinism" as well as take adequate measures to find those responsible for the criminal act.