"People's referendum" asks about nationalization, tax and prices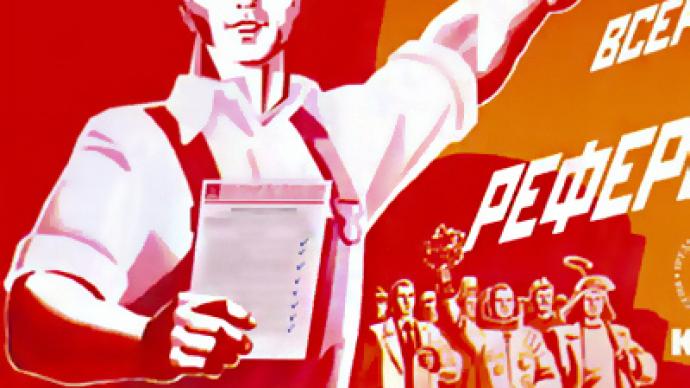 Russia's Communist Party launched on Tuesday its own poll to find out opinions on social issues – a move seen as a PR stunt by opponents.
The largest opposition party will ask people if they want land, natural resources and key industries to be nationalized. Another question reads, "Do you agree that payment for housing and public utilities should be limited to 10 per cent of a family's revenue?" Communists also want to know if people support the shift to a proportional progressive taxation scale, meaning more tax for the rich. These three questions had already been asked by the Communists during the previous "people's referendum" held in 2005. Back then, they managed to gain signatures of about seven million people. New questions have been included for this year's self-proclaimed referendum. People will be asked if the state should be responsible for the country's food security, the quality of products and medicine. The question involves a proposal that the state should regulate prices of essential goods. The Communist Party also wants people to speak on the possible pension age rise and the current legislation in education. Citizens will only be asked to say "yes" or "no" on every issue, Deputy Communist Party chairman Ivan Melnikov said. "We are launching a massive program offensive." Anyone may take part in the referendum at the party's regional offices until September 30. The campaign should become "a determining factor of public and political life" and exert pressure on decisions made by the ruling party, Melnikov said. Opponents of the Communists from the United Russia party, which has a majority in the Russian parliament, reacted immediately. The referendum was timed to two elections campaigns, they said. In March, 12 regional legislative bodies are elected. In December, the parliamentary elections will be held. The Communists' idea is clear PR and they want to remind voters about themselves, United Russia's website said. It is not permitted to hold a federal referendum, so the Communists launched regional polls. But such surveys are not binding and will not entail any changes in legislation.
You can share this story on social media: