Russia, Kyrgyzstan seal military base agreement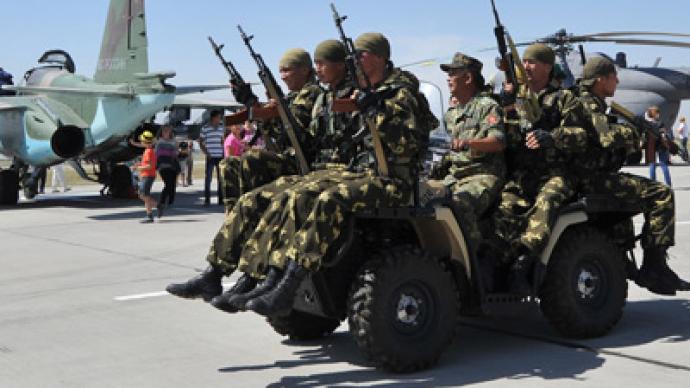 Russia will maintain a joint military base in Kyrgyzstan for 15 years starting 2017, reads an agreement signed in the presence of the two countries' leaders during a summit in Bishkek.
The freshly-signed agreement details the status and conditions of the military base's stay and includes a protocol on military cooperation over the period before the base is opened. The agreement also regulates the rental price.President Vladimir Putin told the press after the talks with Kyrgyz leader Almazbek Atambayev that the joint Russian-Kyrgyz military base would be a significant factor adding to the stability in the country and the whole region. Putin stressed that the initiative to create the base came from the Kyrgyz side. He said that those who intend to rock the region's stability must realize that there are forces that can be used in the fight against extremism, drug trafficking and terrorism. The president also told reporters that in his view the situation in the neighboring Afghanistan will not change for the better in the nearest future, but Russian military presence in the region, both in Kyrgyzstan and Tajikistan, is a serious factor of stability.Atambayev told the press that he and Putin did not discuss the US military presence on Kyrgyz territory or the US air base at Bishkek Airport during the summit.As for Kyrgyzstan's own position, Atambayev said he had repeatedly supported the idea of conversion of the Bishkek base into a civilian air transport hub, and starting from 2014, when the rent agreement with the US expires, it will not be prolonged. "A civilian airport must be a civilian site," the president said adding, that he had repeatedly informed the US authorities about these plans. Putin confirmed that he and his Kyrgyz colleague "not only didn't discuss the US air base, but didn't even mention it" and stressed that the question of foreign military presence in the country was Kyrgyzstan's own sovereign right.