Prokhorov party withdraws from Moscow Region governor poll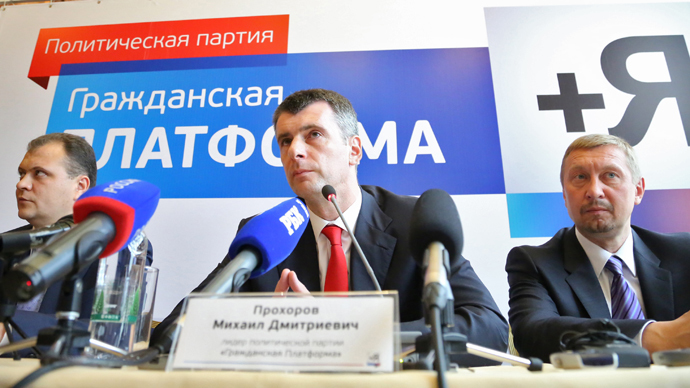 The young pro-business party Civil Platform will not take part in the forthcoming governor's elections in the Moscow Region, party leader Mikhail Prokhorov has announced.
The billionaire politician told news agencies that his party had initially been considering three candidates for the post, but did not disclose their names. He also gave no reason why Civil Platform decided to quit the race.
The Moscow Region is a subject of the Russian Federation with a population of about 7 million. The city of Moscow is not included in the Moscow Region, but the immediate proximity of the capital offers huge potential for development.
The main contender in the elections in the incumbent acting governor Andrey Vorobyov, a former senior official in the parliamentary majority party United Russia, appointed to this position to replace Sergey Shoigu – a veteran political heavyweight who was called upon to assume the post of defense minister mid-term.
This is not the first withdrawal in Civil Platform's brief history.
Earlier this year Prokhorov and his party announced following a period of uncertainty that they were not planning to take part in the Moscow City Mayoral elections due in September.
Prokhorov said that he had been planning to run himself, but did not have enough time to get rid of his foreign assets and did not want to use some shady roundabout schemes. Instead he decided to concentrate on the elections to the Moscow City legislature that will take place next autumn.
Russia has recently introduced a law that prohibits all senior officials from owning bank assets and securities abroad. Prokhorov owns a multi-billion-dollar business that includes various foreign companies and stock, including the Brooklyn Nets basketball team. He earlier announced that he had secured the NBA sanction to transfer the ownership to a legal entity.
When Prokhorov pulled out of the mayoral race he claimed then that this must put an end to speculation that the Civil Platform was a decoy project initiated and sponsored by the Kremlin.
Civil Platform is also facing a difficult situation in the central Russian industrial center of Yaroslavl. The party planned to take part in the elections to the local legislature and attracted the incumbent mayor, Evgeny Urlashov, to lead its elections list. However, last week Urlashov was detained over charges of bribery and put under arrest pending investigation until September 2. The mayor himself and Mikhail Prokhorov said the whole case was false and blamed United Russia party for using dirty methods to get rid of competition.
United Russia officials said that the scandal was equally damaging for their party's reputation and called upon all sides to refrain from harsh comments until the investigation is completed.