Church doesn't do politics, maintains political dialogue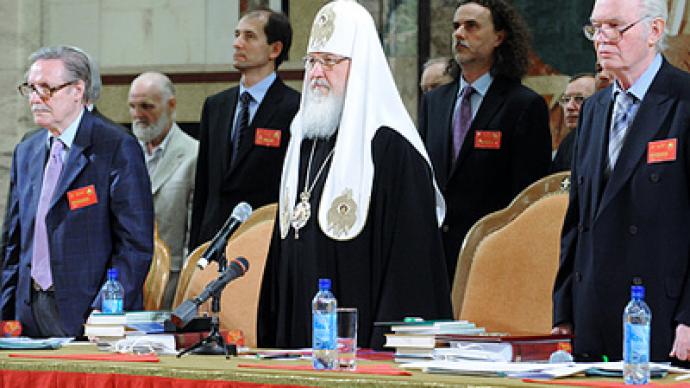 The Russian Orthodox Church does not intend to involve itself with political struggle, though it still holds an active stance on certain issues and wants to maintain a dialogue with all political forces, Patriarch Kirill stated.
"This year, as we hold this assembly, is rich in political events," Patriarch Kirill said during the Church Assembly in Moscow. "Russia is facing an important choice, and its result will to a large degree determine the life of the country for many years to come."He also said that he wants society and the various political parties to unite around certain basic values, including specific ideas the Church first put forward in January of this year. Among others, the "eternal values" list includes justice, freedom, solidarity, collegiality, self-restraint, sacrifice, patriotism, human decency and family values. Patriarch Kirill said that faith should be at the top of this list.In February, the Bishop Assembly adopted a document which forbids priests from taking part in elections or joining political parties. At the same time, this does not mean that the Church is completely withdrawing from political life.  Rather, it wants all parties to build their policies as they keep these basic values in mind. It plans to forward their suggestions to party leaders. Additionally, the Church will maintain its active position on issues of social importance, which again, are also related to spiritual values, the patriarch believes. "The solely practical notion of material prosperity without higher ideals is unlikely to become a solid basis for unity on key issues," the head of the Russian Orthodox Church pointed out. In his opinion, today society needs basic values as never before. "After the unrest of the 90s, society became split by the social, national and political factors," he said, adding that during the turbulent decade society lost some of its reference points and the core values necessary for social development broke. He noted, though, that the state and socially active groups are now turning their eyes to the axiological sphere, something which is "extremely important".
You can share this story on social media: