Know thy enemy: 'Church-haters' blacklisted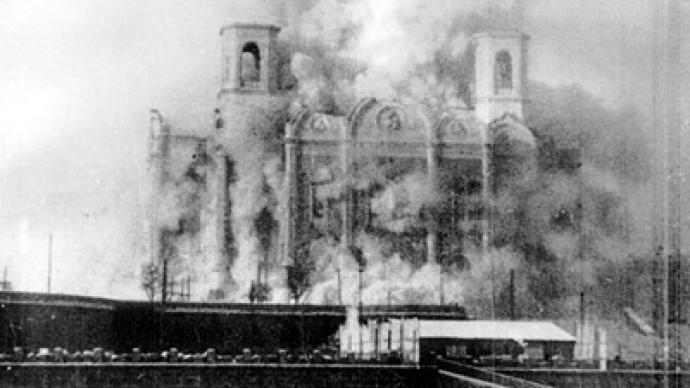 Several Russian opposition leaders, rights activists and even a Nobel Prize-winning physicist have been included in a list of "aggressive anti-Christian xenophobes" published on the internet.
The list was put together by the Public Committee on Human Rights (Tarusa-Moscow) and posted on a web portal called Morality and Law.So far, it includes 55 people (of whom one is deceased) and a gay rights website. The organization though promises to significantly increase the list in the near future, saying that it doesn't have the time to process all the data it has.All those on the blacklist "in one way or another" humiliated "Christians' human dignity by public blasphemy," insulting or making fun of religious values and stirring up hatred of Christians, the committee said in a statement. Among other sins committed are harassment and smearing of the Russian Orthodox Church and believers.Boris Nemtsov, a Co-Chairman of the unregistered Party of People's Freedom, was named among the Church's enemies for supporting the feminist punk band Pussy Riot. Several members of the band were arrested earlier this year for an "extremist" blasphemous performance in Moscow's Christ the Savior Cathedral. The opposition politician hit back, saying that the style of the publication – "aggression, obscurantism and a strong desire to deal swiftly with dissidents" - shows that the organization is influenced by the Moscow Patriarchate. In his blog on LiveJournal, Nemtsov also stated that it is the "political" motive of the girls' arrest that he opposes.In his opinion, Russia should not turn into an "Orthodox Iran", as this would spell disaster for the country. Nemtsov believes that public schools should be separate from the Church – he is against attempts to impose religious education. The list also includes opposition leader and world chess champion Garry Kasparov, head of the Movement for Human Rights Lev Ponomaryov, whistle-blowing blogger Aleksey Navalny, and winner of the 2003 Nobel Prize in Physics Vitaly Ginzburg (who passed away in 2009). While the prominent academician has no chance of getting his name removed from the list, for others there is still some hope. The Committee on Human Rights suggests that they should publicly repent and apologize."We recommend that those people get together like Alcoholics Anonymous groups, and… try to recover from their xenophobic intolerance of Orthodox Christianity and the Russian Orthodox Church," the statement reads.The organization also noted that its lawyers are ready to meet with litigants in court "as often as needed" and are eager to do so, since this is the only way to protect Christians while the state "discriminately" does nothing.
You can share this story on social media: