Duma to guard Christianity: MPs battle 'evil' ideologies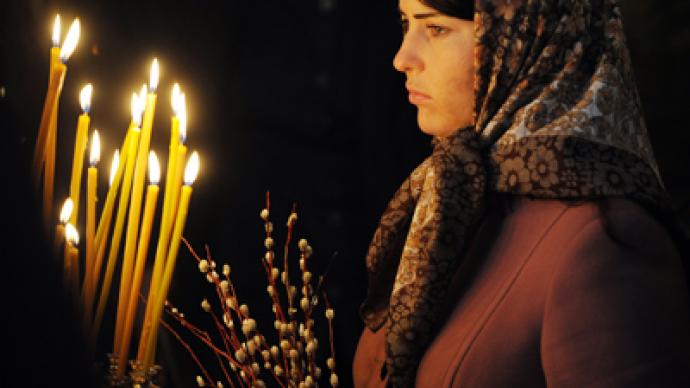 Russian legislators have set up a group to protect traditional Christian values and fight "aggressive liberalism," secularism, violence, and drug, alcohol and gambling addiction.
Put forward by Communist MP Sergey Gavrilov and a deputy from the United Russia party, Sergey Popov, the idea received approval from the Russian Orthodox Church leadership, Interfax reports. The point of the initiative is to use legislative instruments to counter "totalitarian and sectarian ideologies," and "unlimited propaganda of hedonism" together with the Church, Gavrilov told the agency."Deputies from different State Duma parties are unanimous in their assessment of the role and importance of the Russian Orthodox Church for the preservation of the spiritual, moral, cultural and socio-political identity of the Russian Federation as a unique Christian civilization," the Communist stated.About 20 deputies from the Communist Party (KPRF) and the ruling United Russia are planning to join the parliamentary group, which will be headed by Gavrilov and Popov. Gavrilov noted that the decision to create the body follows a series of scandals, including the so-called "punk-prayer" performed by feminist band Pussy Riot in Moscow's Christ the Savior Cathedral. That very cathedral is of course a replica of the building which was pulled down in 1931 – by order of the Communist leadership."We believe that the Church should not be alone in voicing its position. Parishioners have the right to state their attitude toward these conflicts," Gavrilov told Ekho Moskvy radio station.Another senior KPRF member though underlined that it is not Christian, but traditional values that the Duma is going to protect. "When [the creation of the Duma group] was discussed, we spoke about traditional values…We support it in this context," Sergey Obukhov told Russian News Service. The idea was also met with enthusiasm by other religious groups. The Russian Council of Muftis is planning to establish a similar group to protect Muslim values, the head of the council's press-service told Vzglyad newspaper.
You can share this story on social media: