China and Russia: Allies of circumstance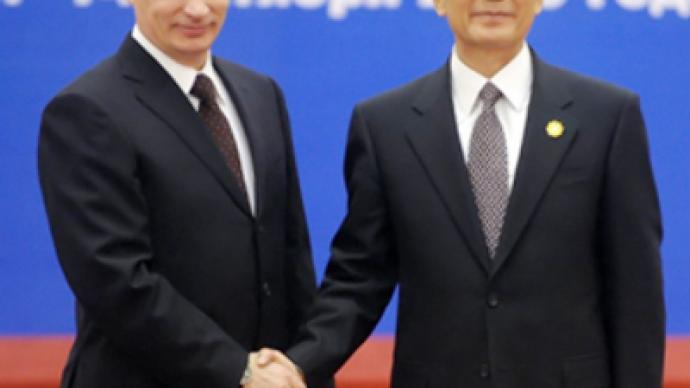 Whenever the subject of "Russian-Chinese relations" is broached, it invariably sparks the loaded question: will such a relationship tip the geopolitical chessboard?
At first glance, a Chinese-Russian relationship seems to be a match handcrafted in geopolitical heaven: Russia, blessed with a seemingly endless amount of natural resources, provides China, the world's factory, with all of the energy supplies it needs to keep churning out the cheap products.
Prime Minister Vladimir Putin's two-day trip to China, which provides a conspicuous footnote to Hillary Clinton's coinciding European tour (or perhaps – vice-versa – it is Clinton's trip that is the nagging footnote to Putin's meeting), has once again witnessed Beijing's eagerness to gobble up obscene amounts of Russian gas.
"China is a colossal market," Putin reminded reporters after his talks with Chinese Premier Wen Jiabao on Tuesday. "The diversification of supplies is a very important direction for Gazprom."
"We have plenty of gas," said Vice Prime Minister Igor Sechin. "We could give to the Chinese as much as they want. But Miller (Gazprom CEO Aleksey Miller) is in charge of negotiations."
Miller announced Tuesday that a tentative deal between Russia's state-run natural gas monopoly and China National Petroleum Corp. calls for the supply of around 70 billion cubic meters of gas per year, but a price has not been set and no contract signed.
All things considered, it seems communist China never got the memo that there is a financial crisis raging around the world. Indeed, China, which shares a 4,300 kilometer (2,671 miles) border with Russia (or roughly twice the distance between Boston, Massachusetts and Miami, Florida), has pulled far ahead of the global pack and is set to post a whopping 8 percent GDP growth for 2009. This surge demands Russian cooperation.
More than just gas
Being in China's economic gravitational field, Moscow has a great opportunity for mitigating the pain of the financial crisis. One area where Russia stands to gain (indeed, has already gained) is in the military-industrial realm. Although many observers stress Russia's overreliance on its natural resource exports, such a hasty conclusion fails to appreciate Russia's defense receipts, especially to China.
Since Moscow and Beijing signed an agreement on military-technical cooperation in December 1992, China has purchased more defense-related products from the Russian Federation than all other countries combined.
"During the 1990s, the value of these deliveries ranged up to $1 billion annually," writes Richard Weitz in a report for the Strategic Studies Institute ("China-Russia Security Relations: Strategic Parallelism without Partnership or "Passion?" August 2008).
"In recent years," Weitz continues, "this figure has approached $2 billion annually. According to one estimate, between 1992 and 2006, the total value of Russian arms exports to China amounted to approximately $26 billion worth of military equipment and weapons… well ahead of the United States."
Part of the explanation for these impressive numbers rests on Russia's decision to reform its military according to the logic of the market, as opposed to a Soviet planned economy, which of course proved disastrous for the country.
As a result of Russia's new salesmanship, China is now the proud owner of some of Russia's most fearsome military hardware, including the Su-27 Flanker fighter jet, Su-30 multirole aircraft, T-72 main battle tank, and a variety of naval vehicles, including submarines and destroyers.
This military partnership has demonstrated China's remarkable prowess for replicating, and occasionally improving, the technical expertise of other nations, Russia not excluded.
Between 1998 and 2005, for example, the Chinese manufactured over a hundred Su-27Sk fighter jets under Russian license, using many Russian parts in the process. This experience has allowed China to fuel its own fledgling line of military products, for example, the Jian-10 fighter-bomber, unveiled in 2007, which incorporates Chinese-made missiles and engines.
China has not experienced a war in 30 years, yet seems eager to demonstrate its military prowess to the world. Thus, on October 1, Tiananmen Square was blocked off for the 60th anniversary of communist rule as China put on display a vast arsenal of domestically produced military hardware, including a new generation of precision missiles.
Russia finds itself in somewhat of a Catch-22 situation with China: On the one hand, Russia happily sells China its military equipment so as to be able to keep its engineers content in the defense sector (through high wages). Russia's military reform is finally anchored on free market principles, thus spending by the state on military expenditures remains at about 3 percent of Russia's GDP.
On the other hand, selling to China state-of-the-art military technology risks putting Russia in the hypothetical danger of being next-door neighbors to a teeming house of one billion people armed to the teeth with Russian-made arms. But Russian analysts continue to hold out hope that the things that unite China and Russia (irritation over American military globetrotting, for example) will always outweigh the differences.
"China today is an influential power making a large contribution to securing international security,"
Russian President Dmitry Medvedev said.
"Russia is sincerely happy for the successes of friendly China in its movement along the path of reforms and modernization,"
he said in a statement released by the Kremlin on the occasion of China's 60th anniversary of communist rule.
Allies of circumstance
In January 2007, China surprised the world when it destroyed an aging Chinese weather satellite at an altitude of about 500 miles above the surface of the earth. This test provoked the greatest reaction from the United States, which is heavily dependent on its integrated constellation of spy satellites, which serve as the eyes of the American intelligence community.
Some military analysts suggested the test was an attempt by the Chinese to draw attention to America's ongoing "space race."
Moscow and Beijing have long been trying to get Washington to endorse a global treaty against the militarization of space, yet the Bush administration repeatedly balked on the idea, claiming that its national security demanded "freedom of action in space."
In August 2006, just 5 months before China's "antisatellite provocation," the Bush administration, with its notorious concern for diplomacy, issued a document that can be best described as creepy.
The new U.S. space policy stated the United States "would preserve its rights, capabilities, and freedom of action in space" and "dissuade or deter others from either impeding those rights or developing capabilities intended to do so."
Finally, it declared the United States would "deny, if necessary, adversaries the use of space capabilities hostile to U.S. national interests."
The report failed to identify the "adversaries," or the "space capabilities" of foreign nations that may pose a threat (are other nations permitted to send weather satellites into orbit?) and exactly what actions would be considered "hostile to U.S. national interests."
In short, it appeared from the wording of this text that the United States was not prepared to share the vast frontiers of outer space with anybody else besides U.S. corporations.
But that was certainly not the only Bush-era broadside that pushed Beijing and Moscow closer together.
In a sensational article in Foreign Affairs ("The Rise of U.S. Nuclear Primacy," March/April 2006), a reputable U.S. political journal, the argument was forwarded that "the United States stands on the verge of attaining nuclear primacy."
"For almost half a century, the world's most powerful nuclear states have been locked in a military stalemate known as mutual assured destruction…," the article begins. "This debate may now seem like ancient history, but it is actually more relevant than ever – because the age of MAD is coming to an end (In December 2001, George W. Bush announced that the United States is abrogating the 1972 Anti-Ballistic Missile Treaty in order to deploy a missile defense system, which the treaty forbade)."
"For the first time in almost 50 years," the article screams, "the United States stands on the verge of attaining nuclear primacy. It will probably soon be possible for the United States to destroy the long-range nuclear arsenals of Russia or China with a first strike. This dramatic shift in the nuclear balance of power stems from a series of improvements in the United States' nuclear systems, the precipitous decline of Russia's arsenal and the glacial pace of modernization of China's nuclear forces."
Although this article, and others like it, grossly underestimate the true level of efficiency of Russia's nuclear arsenal, not to mention China's own achievements in the nuclear realm, the argument naturally did not go down well in Moscow and Beijing. Actually, such hubristic articles make it much more understandable why Moscow remains vehemently opposed to any U.S. missile defense systems in its sphere of influence.
Furthermore, such irresponsible analysis, which has no small degree of influence in the political realm, practically forced China and Russia into some sort of limited partnership.
Unfortunately, Barack Obama being awarded a Nobel laureate will do little to erase the memory of the 8-year reign of error of the Bush administration.
Putin addresses Shanghai Cooperation Organization
On Tuesday, Prime Minister Putin addressed the Shanghai Cooperation Organization (SCO), a regional international entity comprising Kazakhstan, China, Kyrgyzstan, Russia, Tajikistan and Uzbekistan.
Mongolia, India, Iran and Pakistan have been granted observer status in the organization.
Founded in Shanghai on June 15, 2001, the stated purpose of the SCO is to enhance cooperation among member states in various areas such as security, economy, transportation, culture, disaster relief and law enforcement, with security and economic cooperation the priorities.
In August 2007, during antiterrorist drills sponsored by the SCO, Putin downplayed speculation that the organization was comparable to NATO, as some analysts suggest, or that Moscow hoped to strengthen its hand in Central Asia under the auspices of the SCO.
"The comparison of the SCO to NATO does not conform to reality, and is improper in both content and form," Putin was quoted by Itar-Tass as saying. "The SCO was established for solving border issues between Russia and China, and we have solved them successfully."
On Tuesday, Putin urged the member-states of the SCO to step up the efficiency and coordination in foreign policy – particularly with regards to Afghanistan where US-led Coalition forces are engaged in a bloody battle with the Taliban – between the organization's law-enforcement bodies.
"The development of the situation in our region, specifically Afghanistan and the surrounding region," Putin said at a meeting of SCO prime ministers, "demands the stepping up of coordinated actions between the foreign ministries and law-enforcement bodies."
The Prime Minister then called for the creation of a mechanism within the SCO to deal with the problem of drug-trafficking out of Afghanistan.
Russia has long said it is the main victim of Afghanistan heroin, which is responsible for killing up to 30,000 Russians every year. Demands by Russia for the United States to employ an aerial fumigation program have so far yielded no results.
"It is necessary to step up the formation of an efficient anti-drug mechanism within the Organization," of which the heads of the relevant agencies agreed in May this year, Putin said.
"The foundations of international cooperation in combating drug trafficking were laid… by a number of countries, including Russia," the Prime Minister said. "This form of work should remain in the focus of our attention."
The Russian premier also called for "improving the efficiency of the SCO regional antiterrorist structure and starting preemptive measures against the laundering of criminal proceeds."
Given these non-threatening, benevolent initiatives being set forth by the members of the SCO in Beijing, it seems that the West has nothing to fear from an atmosphere of enhanced relations between China and Russia, as well as the member states of the SCO.
However, the West, and especially the United States, must take some credit for pushing China and Russia into each others' arms, thus becoming hardened allies of circumstance.
You can share this story on social media: