Russian intelligence officer guilty of betraying spy ring in US
Published time: 27 Jun, 2011 07:31
Edited time: 27 Jun, 2011 14:22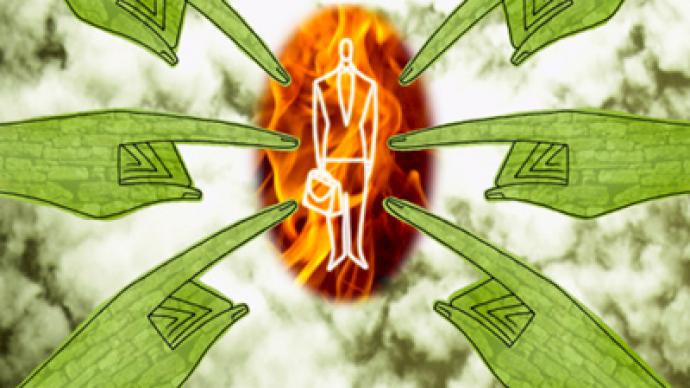 The Moscow district military court has found ex-Colonel Aleksandr Poteyev guilty of high treason in absentia for the betrayal of 11 Foreign Intelligence Service (SVR) agents, including Anna Chapman, who were working undercover in the US.
Poteyev has been sentenced to 25 years behind bars and stripped of the rank of colonel, as well as his military decorations. His lawyer Andrey Kucherov said he is going to appeal the verdict, which he considers to be far too harsh, reports RIA Novosti.

The trial was held behind closed doors as the court was examining classified information. Meanwhile, Poteyev is believed to be hiding in the US. The former intelligence colonel was charged with treason and desertion.
The court stated that Poteyev's activities caused serious damage to Russia's security interests. The 59-year-old informed the US special services on the means of financing Russian agents working abroad, as well as provided them with information on their communication channels.
According to Chapman's testimony which was read during the trail, she identified Poteyev from a photograph as the man who was aware of her intelligence activities in the US, reports Interfax. Nicknamed "Agent 90-60-90", the former spy also revealed the details of her detention in America. Chapman said that a person who introduced himself as Roman, a representative from the "Centre" (SVR headquarters in Moscow), contacted her asking for help. "Roman" used a code word that was only mentioned in Chapman's personal records. Having guessed that something was wrong, "the femme fatale" contacted Moscow to get further instructions.
"Thus, Chapman managed to ruin American intelligence plans to make a documentary record of the Russian agents' work," the judge noted.
The other agents also bore witness to Poteyev's role in blowing their cover.The verdict quotes them as saying they were shocked at the amount of information about their activities that the US special services had obtained, including fragments of correspondence and secret codes.
The investigation revealed that SVR Colonel Poteyev had been cooperating with the CIA since 1999, when he got access to lists of Russian agents operating in the US, Canada and Latin America.
Poteyev fled Russia shortly before President Dmitry Medvedev's June trip to Washington. Later, it was announced that the FBI broke up an alleged Russian spy ring as ten suspects were arrested. The court discovered that Poteyev slipped out of Russia via Belarus. With the help of American special services, he then fled to the US via Germany using a forged passport.
Following the spy scandal in the summer of last year, Moscow and Washington conducted the biggest prisoner exchange since the end of the Cold War. On July 9, 2010 the ten alleged Russian spies were traded for four agents who were serving long-term prison sentences in Russia. The eleventh suspect was caught in Cyprus, but vanished after being released on bail.