Medvedev calls to purge United Russia of 'accidental' members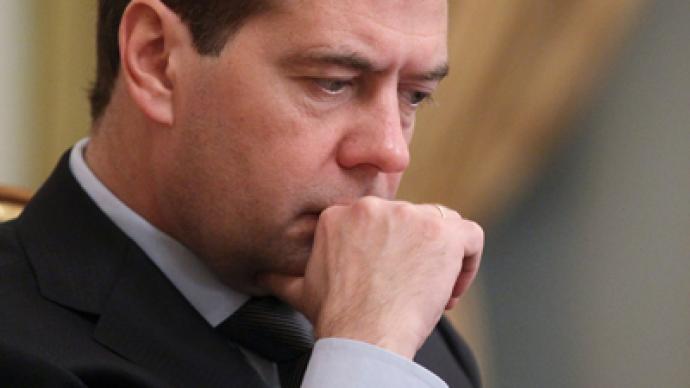 The Russian prime minister, head of the parliamentary majority United Russia party, has called for a major renewal of the party and to purge it of all those who are blackening its image.
Dmitry Medvedev was meeting with the candidates for the post of the head of United Russia's Central Executive Committee (CEC) when he again decided to promote internal democracy and renewal. On Friday the presidium of the party's General Council is expected to elect the head of the CEC by a direct and secret vote for the first time. "There must be responsibility before the party and this means that there must be responsibility before the people who trust the party," Medvedev said. "Our members and leaders are not at all without sin. We must make decisions if there are problems. If a certain number of people who got into the party's ranks by chance are behaving in a way that they blacken everything in the party structures, then we must get rid of them," the PM added.Medvedev said that the elections to the top posts were a symbol of United Russia's renewal."I have always thought, and this is still my sincere position, that competitiveness is always better than someone's dominance, even when we understand that the man who is taking the responsibility has good starting opportunities, respect and so on," Medvedev told the party activists.The United Russia leader also stressed that the party needed renewal, not simply to show some movement, but to better adjust to the changing world.Dmitry Medvedev became a member of United Russia in May 2012, shortly after freshly-elected President Vladimir Putin appointed him prime minister. Almost immediately after joining, Medvedev was elected party leader, replacing Putin, who is not a member and supports the idea of a non-partisan president.
You can share this story on social media: