British newspaper: Iran testing "key component" for nuclear bomb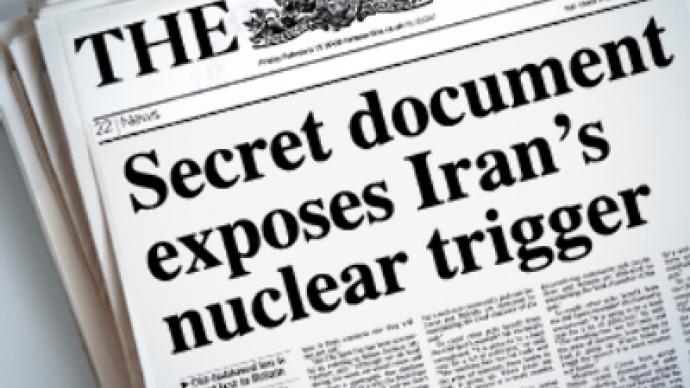 The Times of Britain reported Monday that it was privy to confidential intelligence documents proving that Iran is working on testing a final key component of a nuclear bomb.
"The notes," The Times reported on Monday, "from Iran's most sensitive military nuclear project describe a four-year plan to test a neutron initiator, the component of a nuclear bomb that triggers an explosion."
The "technical document" mentions Iran's alleged interest in developing uranium deuteride (UD3), which would serve as "the metaphorical match that lights a nuclear bomb."
Tehran maintains it is pursuing nuclear technologies in order to create a viable source of energy. But critics contend that Iran, with the third largest oil reserves in the world, is actually in the process of developing a secret nuclear weapon program. The unproven disclosure that Iran experimented with UD3 will not help its case before the jury of global opinion: the use of UD3 is limited to the realm of nuclear weapon research.
The Times said the documents have been seen by British intelligence and passed on to the International Atomic Energy Agency (IAEA). The IAEA in November censured Iran for withholding information on its nuclear program. It also urged Iran to freeze construction of its uranium enrichment facility in a mountainside complex near the city of Qom, which Iran made public in October.
The British daily wrote that foreign intelligence agencies date the compromising nuclear notes to early 2007, four years after Iran was thought to have suspended its weapons program.
If true, this latest bit of leaked intelligence flies in the face of a 2007 US National Intelligence Estimate (NIE) that stated, "We access with moderate confidence that Tehran had not restarted its nuclear weapons program as of mid-2007."
But with every attempt to show that Tehran is not actively pursuing a nuclear-weapons program, another intelligence document surfaces suggesting the opposite.
Last week, yet another British publication demonstrated its knack for acquiring secret intelligence documents by reporting that Iran is attempting to acquire nuclear technology via Taiwanese companies.
As the London Daily Telegraph detailed last week, "Recent intelligence reports have revealed that officials from Iran's Ministry of Defence have held a series of meeting with companies based in Taiwan to buy hundreds of pressure transducers, which can be used to produce weapons-grade uranium."
Quoting anonymous intelligence sources in the West, the Telegraph went on to say that Iran is "concentrating its efforts on Taiwan, and has already managed to acquire 100 transducers which have been secretly shipped to Tehran. The transducers were originally manufactured in Europe and then sold to a company in Taiwan, which then sold them on to Iran's defence ministry."
Taiwan's Economic Ministry's Import and Export Administration pledged to investigate the claims that Tehran had set up a nuclear-equipment smuggling network using Taiwanese companies, apparently in cooperation with particular EU-based firms, administration director Chen Ching-chih said.
"This is going to take some time. It's a thorough investigation and very detailed," Chen said, as quoted by Reuters. "We need to know after all which, if any, domestic firms are involved."
Taiwanese firms are not known for their expertise in nuclear technology, Chen said, and none had a permit to sell such equipment to Iran.
The Taiwan Defense Ministry, which can authorize military-related trade deals, said last week it had heard of no such transactions.
A government probe in March following intelligence leads from overseas cleared a Taiwanese business said to be working with a foreign partner to offer nuclear technology to Iran, Chen said.
Iran watches from the sidelines
Iran on Saturday announced it was ready to exchange uranium for nuclear fuel – the key demand of a United Nations-sponsored initiative to defuse global fears over its nuclear program – but not all of it at one time as had been originally agreed.
The UN response: sorry, no deal.
What is the IAEA?
The IAEA, according to its website, is the world´s center of cooperation in the nuclear field. It was set up as the world´s "Atoms for Peace" organization in 1957 within the United Nations family. The Agency works with its Member States and multiple partners worldwide to promote safe, secure and peaceful nuclear technologies.
The IAEA Secretariat is a team of 2200 multi-disciplinary professional and support staff from more than 90 countries. The Agency is led by Director General Yukiya Amano and six Deputy Directors General who head the major departments.
The IAEA reports annually to the UN General Assembly and, when appropriate, to the Security Council regarding non-compliance by States with their safeguards obligations as well as on matters relating to international peace and security.
Manouchehr Mottaki, Iran's Foreign Minister proposed that the country swap 880 pounds (400 kilograms) of low-enriched uranium for nuclear fuel.
Under the original plan, organized under the auspices of the International Atomic Energy Agency (IAEA), the UN nuclear watchdog, Iran's low-enriched uranium would be sent to Russia for further enrichment, and then turned into fuel rods in France. Finally, the material would be returned to Iran, where it would be used for medical purposes.
It would not be possible to enrich the uranium to higher levels, thereby denying Iran the ability to use it to make weapons.
By carrying out the return of Iran's uranium supplies in limited stages, as the Iranian foreign minister has suggested, would leave Tehran in control of enough uranium to make a bomb.
An UN official, who spoke on condition of anonymity due to her proximity to the situation, said Iran's offer was "discouraging" and urged Tehran not to renege on the existing IAEA proposal, which calls on Iran to send 2,645 pounds (1,200 kilograms) of its low enriched uranium to Russia "in one complete delivery."
Tehran continues to send mixed signals concerning its actions.
Ali Larijani, the speaker of Iran's parliament, said on Sunday that Tehran was carefully following the diplomatic efforts of some Western nations in the ongoing stand-off over Iran's disputed nuclear program.
"Their conniving moves in the international organizations toward the nuclear issue are being monitored closely and they cannot hide their real intentions," he said.
Larijani said it appeared the US and its allies did not want Iran to continue its activities within the framework of the International Atomic Energy Agency, the UN's nuclear watchdog.
"Be certain that they won't have the chance to express… offers such as fuel exchange any more," Larijani said, in comments aired on state television.
Israel: still time for diplomacy
Israel's Defense Minister Ehud Barak told reporters Monday there is still time for diplomacy in trying to persuade Iran to end its nuclear stance.
Barak, speaking at a news conference during a visit to Austria, said there was still time to persuade Tehran to give up uranium enrichment military and "stop their move toward a military nuclear capacity."
However, the defense minister has said that a military strike remains an option, should Iran continue to expand nuclear activities that could be used to make weapons.
Barak said Israel recommends "to all players not to remove any options from the table."
Such phrasing is diplomatic-speak for the possibility of a military strike, should diplomatic efforts fail.