A third of Russians wish they could shoot dead corrupt officials
Published time: 23 Jun, 2011 08:28
Edited time: 23 Jun, 2011 16:11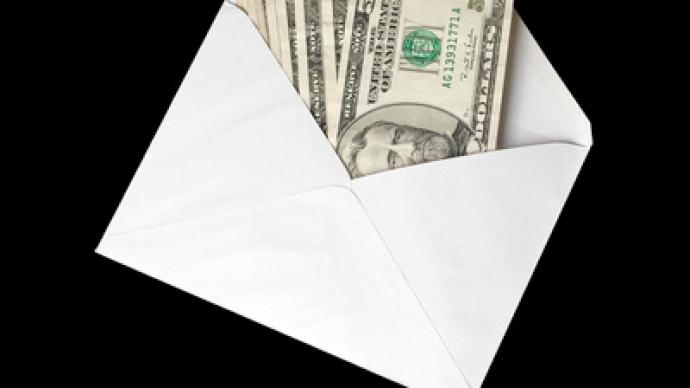 A sociological research study has revealed that over a third of the country's population wish they could shoot down all bribe-takers and speculators while 70 per cent of Russians admit they are hostile to people of other nationalities.
As many as 34 per cent of Russians "always" feel like killing the corrupt and 38 per cent of the population "sometimes" wish they could do so writes Kommersant, citing the Russian Academy of Sciences' (RAS) analytical report entitled "20 years of reforms in the eyes of Russians". In Moscow the number of citizens who are fed up with bribe-takers is even higher: almost two thirds of locals would gun them down.
Moskovskiye Novosti (Moscow News) website points at yet another dangerous trend discovered by sociologists. 70 % of Russians and 60 % of non-Russian nationals admit that they dislike other ethnic groups. To add fuel to the fire, over a third of ethnic Russians say they would not mind if representatives of other nationalities were kicked out of their home towns by force. 15 per cent are certain that Russia should be a state for Russians, while about a third of respondents believe that Russians should have more rights since they have more obligations. Surprisingly, 13 per cent of national minorities' representatives approve the idea of giving preferential treatment to Russians and 9 per cent agree that Russia is for Russians.
After the dissolution of the USSR, each of the former 15 Soviet republics followed its own path. While some of them have managed to develop into quite successful sovereign states, others still face economic difficulties and cannot provide an acceptable standard of living and high salaries for their population. Seeking better conditions and jobs, millions of people from former Soviet republics have been flocking to Russia to the chagrin of locals. Despite the government's calls for inter-ethnic peace and efforts to convince the population that inter-ethnic hatred in a country that is home to hundreds of nationalities is "mortally dangerous", ethnic conflicts still regularly occur.
The level of social aggression has increased rapidly over the last decade, observed the deputy head of the RAS Institute of Sociology, Natalia Tikhonova. She noted that such findings came as a surprise to experts. The main point of the research was to find out how Russians feel about the reforms launched in the country after the collapse of the Soviet Union in the beginning of 90s. As it turned out, the majority of those questioned believe that what is happening in the country is unfair. They feel shame for the situation in Russia and fear "abuse and the explosion in crime". This mix, according to Tikhonova, explains why the citizens have become a lot more intolerant.
"Despite all of its achievements, the country is experiencing the delegitimation of power," she concluded, Kommersant cites.
Striving to improve the situation, the leadership has been carrying out reforms, made legislative improvements and taken other steps aimed at making life in the country better. Dmitry Medvedev made the battle against Russia's gravest sin – corruption – one of the pillars of his presidency. Hundreds of corrupt officials have lost their posts and faced charges for taking bribes. In spring, the President signed into law an amendment to the Penal Code that increases the fine for taking bribes by a hundredfold.
Addressing the St Petersburg Economic forum earlier in June, Medvedev pointed out that among other things, only by tackling corruption could Russia achieve its major goal – the modernization of the economy.
"We hear constantly that corruption is strangling Russia. We need to reply in kind and put a relentless stranglehold on those guilty of corruption," he said, adding that the whole of Russian society shares this view. The president admitted that corruption is difficult to detect and the current criminal prosecution procedures in these cases are very slow and complex. "We should keep these procedures in place if only to ensure reliable guarantees in the case of unfounded accusations, of which there are a fair few, regrettably," he said.
Medvedev stressed that state bodies "need to clean themselves of corrupt employees faster and more decisively, and to do this we should broaden the grounds for firing people suspected of corruption from the civil service". He pointed out though that it is important "to keep legal procedures in place which give people the right to appeal against such dismissals".
Speaking at the forum, the head of state noted that "we could also look at making civil servants and state officials bear full material liability to the state treasury, which in the past always compensated the losses caused to private individuals by civil servants' unlawful action or inaction". Medvedev stressed that "we need to squeeze out everyone who holds the law, order, and their honest colleagues in contempt, and sadly, there are many such people, including in the law enforcement system".
Yury Chaika, who was re-appointed as Prosecutor General on Wednesday, told journalists that over 40,000 corruption cases were opened in 2010. Chaika promised the Federation Council – the upper house of the Russian parliament – that he would continue an uncompromising fight against corruption.
"As you know, six prosecutors, including four town prosecutors, were fired in the Moscow region. Over the past 12 months, we've exposed 38 cases of violations of service regulations by personnel in the prosecutors office and 96 instances where office powers were used contrary to the public interest. A majority of these employees were relieved of their duties," he said, addressing the senators, cited Itar-Tass. Chaika added that 43 prosecutors were dismissed for corruption.