US do whatever they want in the world – Bout's wife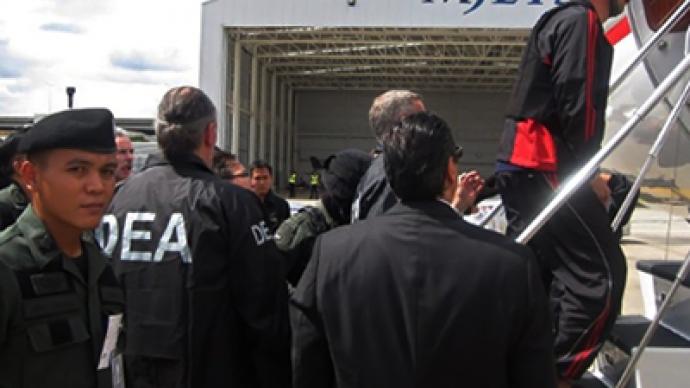 Alleged arms' dealer Viktor Bout, extradited earlier from Thailand to the US, is due to appear before a federal court in New York on Wednesday.
A judge is supposed to present an indictment against the suspect and decide for how long he should remain in custody, Bout's lawyer Viktor Burobin told Interfax. After that, Burobin added, the defendant's advocates will formulate their stance.So far no contracts with American lawyers have been established on representing Bout's interests, he noted.Dubbed "the Merchant of Death" in America, Bout was flown to the US from Bangkok aboard a Drug Enforcement Administration (DEA) charter plane on November 16.While the US is celebrating "a victory for the rule of law worldwide", as US Attorney General Eric Holder called it, Moscow is outraged at the situation."There is no doubt that Bout's illegal extradition is a consequence of unprecedented pressure put on the Thai government and courts by the United States," the Russian Foreign Ministry said in a statement on Tuesday. Russia's Liberal Democratic faction (LDPR) has called for breaking diplomatic ties and severing air links with Thailand. Deputy Sergey Ivanov, speaking at the State Duma session on Wednesday, suggested inviting Foreign Minister Sergey Lavrov to the lower house to discuss the matter, as well as "to decide what should be done with the US who like pirates kidnapped our citizen."Washington, though, believes that the Bout case will not affect relations with Moscow and insists that the US strictly complied with the law. "I don't expect that this will have any impact on our relationship with Russia," US State Department spokesman Philip Crowley told a daily media briefing. He added that the move "is fully consistent with both our bilateral treaty obligations with Thailand and fully consistent with international law."According to the official, America has "a broad and deep relationship with Russia" which is "guided by our mutual national interests".Those national interests, he went on, "overlap.""We understand that on a number of issues, we agree to disagree sometimes. We have tensions that crop up periodically and we work to manage those," Crowley stated. While politicians lay down the law, Alla Bout – the wife of the suspect – is a lot more concerned over the fate of her spouse, who may now face life behind bars in the US. "He was transferred just like a thing – with no documents and secretly. His passport is still in the Russian embassy," she told Kommersant daily. "Even the Russian Consul was not informed [about his extradition]." She blames Russian authorities for not having put enough effort to resolve the situation and free Viktor Bout. "It is a failure of Russia's foreign policy," the woman stated. "The US do whatever they want to do all over the world," she said. "I believe that Viktor was simply given away, sold, exchanged or whatever. But he was not treated the way a Russian citizen should be," Alla Bout stated.The desperate woman suggested that now her husband should do everything simply to survive. Alla Bout, who has so far remained in Thailand, intends to follow Viktor and go to the US to be closer to him. However, she still has to obtain an American visa. According to the suspect's lawyer Burobin, it would be easier to apply for the visa in Moscow. He has no idea when exactly Mrs. Bout is planning to travel to Russia for that purpose. A former Soviet Air Force pilot, Viktor Bout was arrested in Bangkok in March 2008, in a sting operation allegedly organized by American law-enforcement agencies, after years on Interpol's wanted list.The US accuses Bout of ties with terrorists and using his air cargo business to supply arms to Colombian rebels, among other illegal arms deals. The 43-year-old businessman has denied any wrongdoing. He says the charges against him are politically motivated, and he has only engaged in perfectly legal aircraft sales.Following a protracted legal battle, pressure from the US and strong opposition from Moscow, on Tuesday, Thai Prime Minister Abhisit Vejjajiva suddenly allowed Bout's extradition.
Natalia Makarova, RT
You can share this story on social media: